Investment Vestments: Spring Couture 2010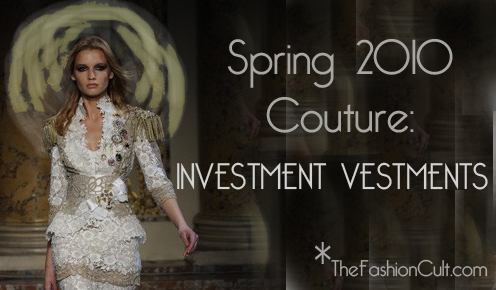 Another season of Haute Couture has just closed and the fashion ultra-elite are placing their orders. The market for the highest form of fashion is smaller than ever these days, with a mere 200 women bestowed with the means and access to don the most honored vestments of the Fashion Cult. My how I wish other clergy would operate in this way: lead by example, not violent proselytizing. Above: a look from Zuhair Murad Couture.
Our Daily Bread: Everyday couture for the discerning young woman. Jean Paul Gaultier has always been one to push the limit of fashion into a realm of sartorial poetry. This year his metaphor evoked a feeling of armor meets vulnerability. I'm not sure if the hardness was meant to be coming or going, but the blue dress below, for example, is that perfect medium. A comfortable solution that would standout in its impeccable appropriateness for wherever the day takes you. Similarly, Thimister's caped dress in military green is packed with structure but flows with the body so as not to distract the wearer from the mission at hand (groceries, bookstore, mani-pedi…). Thimister's collection leaned heavily on the going trend of making us all into soldiers of one sort or another. If you're among these troops, elegance is as honor on the list of priorities.

***
Power Dressing: Few of us marry the means to make couture a part of daily life; and even fewer are born into it. Rather, many a Priestess must use shrewd intellect and fierce intention to carve out a life of grace. Accordingly, the business meeting is an event (or skill, if you like) that must be approached with strategy and precision. John Galliano presented a Dior collection that will allow even the non-equestrian woman to enter the business domain on a steed of confidence. Paired with a black pencil skirt the jacket below is the best of business meets pleasure. The Armani Prive collection was the absolute embodiment of female power dressing and symbolized feminine virility with a series of moon shapes. The frock seen below utilizes a more subtle version of the shape, with strong shoulders and a daringly deep v neck. Divine. Remember ladies – it's the boardroom, not the BORED room. Nip that waist in, powder your decolletage, and stride in to your spot at the head of the table – wiles and all 😉

***
A Social Calling: Like it or not, anointed ones, the World needs you. The Cult needs you. You may feel, sometimes, like shutting yourself away from most of the hustle, a majority of the bustle, and every bit of the falsity that is encountered with social duties. Still, the heavily blessed must in turn bless others – even if only by their presence. Elie Saab is a master at creating gowns perfect for the step and repeat. But the glamorous and sexy Saab-factor isn't just for the red carpet. See yourself shining amongst a sea of floral shift dresses at your next luncheon or garden party wearing the adorable mini dress, below left. It has just enough coverage to be demure and day appropriate, without sacrificing a drop of glamour. Despite a largely disastrous collection (and since we prefer to focus on the positive, we'll say nothing more of it), Valentino did muster one or two dresses that sparked some desire. The barely-there mini below is a fun and flirty alternative to ubiquitous cocktail party LBD.

***
The Grand Occasion: There are times when a social call is more than just an event, it's a Moment. On these grand occasions something extra special is required. We've been hard on Karl Lagerfeld in the past, but it can't be denied that when the man is on, he's dead on. The Chanel gown below is the type to make one draw in a quick, covetous, breath of surprise and awe. It's quirky, yet supremely elegant; trendy, yet completely unique. For a gown like this I would organize some grand event just to wear it. Speaking of, the Alexis Mabille wedding gown below is similarly awe-inspiring. I would get married just to wear this dress. It is the ultimate in mysterious sexy. Despite yards and yards of fabric, the dress creates an illusion of lucious piece of wrapped fruit ripe for picking. I would wear it completely nude underneath – even barefoot – save a pair of silk, ribbon-tied panties. Hauteness.

***
Click here to learn more about Haute Couture
photos: Style.com
Tags: Couture, luxury, occasion dressing, Spring
Leave a Reply
You must be logged in to post a comment.