Trend Report: Elephants in Jewelry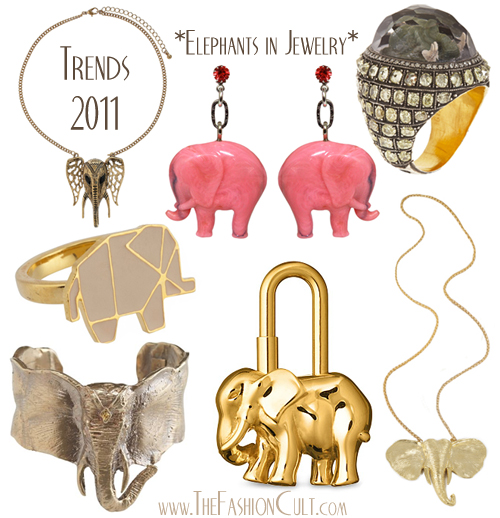 A few years back it was the owl. The wise birds were all over fashion jewelry, so much so that they became somewhat obnoxious (as any overplayed trend does). Now it seems elephants are taking a place in the spotlight. This trend seems to have swelled less conspicuously, but has the potential to be even bigger. Elephants are being placed on earrings, as pendants, as charms, on cuffs, in rings, and pretty much any other type of jewelry you can think of. And it's not just fashion jewelry that's crushing on the grand ol' pachyderms. Fine jewelry, too, is producing many elephant themes.
So what might the trend mean? Elephants have been connected with wisdom, long memory, power, and royalty among other symbolism. Elephants are revered in some Eastern cultures, figuring largely (no pun) in the history and culture of countries like India. In fact, Indian people and culture are increasingly visible in Western popular culture, which plays such a big part of forming fads. Yet trends are more than fashion fad. A real trend is a vibration that can be felt throughout. In fashion, music, cuisine, design, politics, social structures, everywhere… What does the image of an elephant mean to you?
Pictured, clockwise from top left:
Topshop pendant necklace, Tarina Tarantino earrings, Sevan Bicakci amethyst ring, Dannijo Necklace, Hermes Charm, Alkemie cuff bracelet, Sakdidet Road ring
Shop more elephant jewelry items below.
3 Responses to "Trend Report: Elephants in Jewelry"
Leave a Reply
You must be logged in to post a comment.