Smart Sale Shopping for Spring/Summer 2010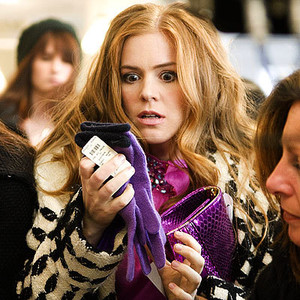 Smart Seasonal Sale Shopping (S4). It's about that time again – the moment in a season when your still in the thick of the climate, but stores have put the current season items on sale. These points are great opportunity moments for your wardrobe, but it's important to approach the free-for-all with a little perspective. Otherwise, you end up spending a ton of cash on items that will only get a wear or two then end up looking stale by the time next season comes around. Instead, use sale periods to get deals on classic wardrobe staples, investment pieces, and items that will be able to wear into the next several months. If that half price item you're drooling over falls into one of the following categories then proceed with caution. If not, then leave it on the (e)rack and save your dough for the impending Fall season's wardrobe budget. Right: a reminder from the movie Confessions of a Shopaholic that more is not necessarily better. In the movie character's case, more was definitely worse!
Classic Cuts
Every decades seems to have an over-the-top trend in clothing shape, but there are certain silhouettes that are timeless. A tailored shift dress is one of those that will look chic season after season, and year after year. Dresses below by Giambattista Vall, Freda, & Emma Cook. Click for info or to purchase.

Little Black Dresses
There are certain wardrobe staples that every style conscious woman should have. The little black dress ranks high among these – for it's ease and versatility. Dresses below by Boudicca, Maxmara, & Sportmax. Click for info or to purchase.

Fall-Appropriate
If an item you buy now can still be worn 3 to 6 months from now, then it's a good sale candidate. Granted, you may have to do some strategic layering, but these items will fit into the cool seasons just fine. Below: Jacket by Belstaff, dress by Chloe, & leather jeggings by Les Chiffoneurs. Click for info or to purchase.

Black Pumps
These shoes might not follow the list rules completely, but they come close. Black pumps are another key wardrobe staple and sale time is a great time to get a good deal on a quality pair. Shoes below by Alexander McQueen, Brian Atwood, & Marc by Marc Jacobs. Click for info or to purchase.

Investment Pieces
Sadly, we've seen the last of what the late Lee Alexander McQueen designed directly. Of course, the house will go on – not to mention the heavy influence he had on other designers – but the 2010 seasons represent the end of an era. Accordingly, they are sentimental and might have special worth in future years. All items below by Alexander Mcqueen. Click for info or to purchase.

One Response to "Smart Sale Shopping for Spring/Summer 2010"
Leave a Reply
You must be logged in to post a comment.