Zoe v. Jacobson – Round 1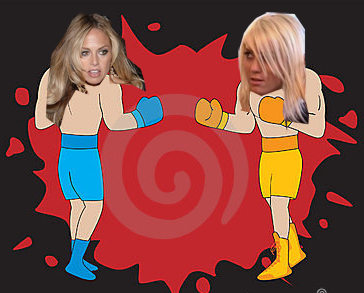 Here at the The Cult our time is as precious as the custom skirt made from grandma's vintage African print cloth. So TV watching is kept to a minimum and writing about TV is even more rare. But there's an intriguing fashion battle a brewing in the so-called-reality television world and we just can't resist. Ladies & gents Zoe (as in Rachel) vs. Jacobson (as in Taylor) round one! *DING*
First, it's only fair that I say up front that I am completely biased in this fashion tete-a-tete. Taylor all day! Rachel Zoe was one of my earliest inspirations on this blog – but not in a good way. Her dominance on the celebrity style scene was tinged by an epidemic of celebrity anorexia. I'm not convinced that was an accident. At any rate, season two of The Rachel Zoe Project pushed me over the edge on what was before just an inkling of distaste for Zoe and her antics. During the season the stylist had a "dilemma" in which of her team to take to Paris for fashion week: Taylor – who has been her assistant since 2005, or Brad Goreski – the dapper though dim fashion gay that entertains Zoe and makes her feel like she's fabulous (fashion gays are awesome at that). Despite having put in years of hard work, Taylor is not the obvious choice. Rather, Rachel pretends to be on the fence about who should attend the pinnacle of fashion design events and instead makes a very cowardly move by asking Taylor to decide. What bollocks! The only bit crumpled bit of credit that I might give Zoe is that Taylor did seem to have a pretty intense, um, presence and sometimes it's just more pleasant to have the happy-go-lucky around.
So clearly, Taylor Jacobson is the winner in this round. She wins for being a hard worker and Zoe loses for her devastatingly horrible management skills. *DING*
And yet despite my firm support of Taylor in the pseudo-feud, I can acknowledge that some of you might be Rachel fans that can see her point of view. So here's your chances to choose sides and show support with a fun and cheeky t-shirt. Each design comes in a variety of styles (baby tees, long sleeved, burnout, etc), sizes, and colors for women and men. We've even thrown Brad a bone! So which team are you on? Buy now at Zazzle.com.


Leave a Reply
You must be logged in to post a comment.