Haute HoroscopeTM: Cancer

Considering that I have never known a sun in Cancer person that wasn't, in my opinion, exceedingly well dressed, Cancer just might be the "haute"ist of the horoscope.
Maybe it's my penchant for all things retro: Cancer style loves vintage and is often intrigued by objects with history attached to them. This includes fabulous vintage jewels and costume jewelry. It's common to find Cancer ears, wrists and fingers stacked with all sorts of bangles and baubles. So when you want to go crab-style, there's nothing more appropriate than indulging in some vintage baubles.
Vintage is huge right now. So much so that major chains and designer labels are cashing in on the trend by rolling out loads of vintage inspired items. These pink plastic earrings from Urban Outfitters are fun and very 50's.
But don't forget that Cancer loves, not just the style, but the story. Accordingly, the sign appreciates the reproduction but wants the real thing. These hoops from Bags&Baubles look almost identical, but they're even better; they were actually made in the 50s, genuine bakelite and all.
Mid to high end designers, of course, lead the wagon when it comes to these sorts of things. Hip jewelry maker Kenneth Jay Lane made his version of the Lagerfeld-esque, 80s chain link necklace that's so popular right now. This black and white resin version is found at Girlshop.com.

The brown and cream lucite necklace, also from B&B, is authentic to the Lagerfeld era. The authentic version not only satisfies the Cancer yen for vintage, the creamy color ups the piece's feminine side – a side with which Cancer is very much in touch.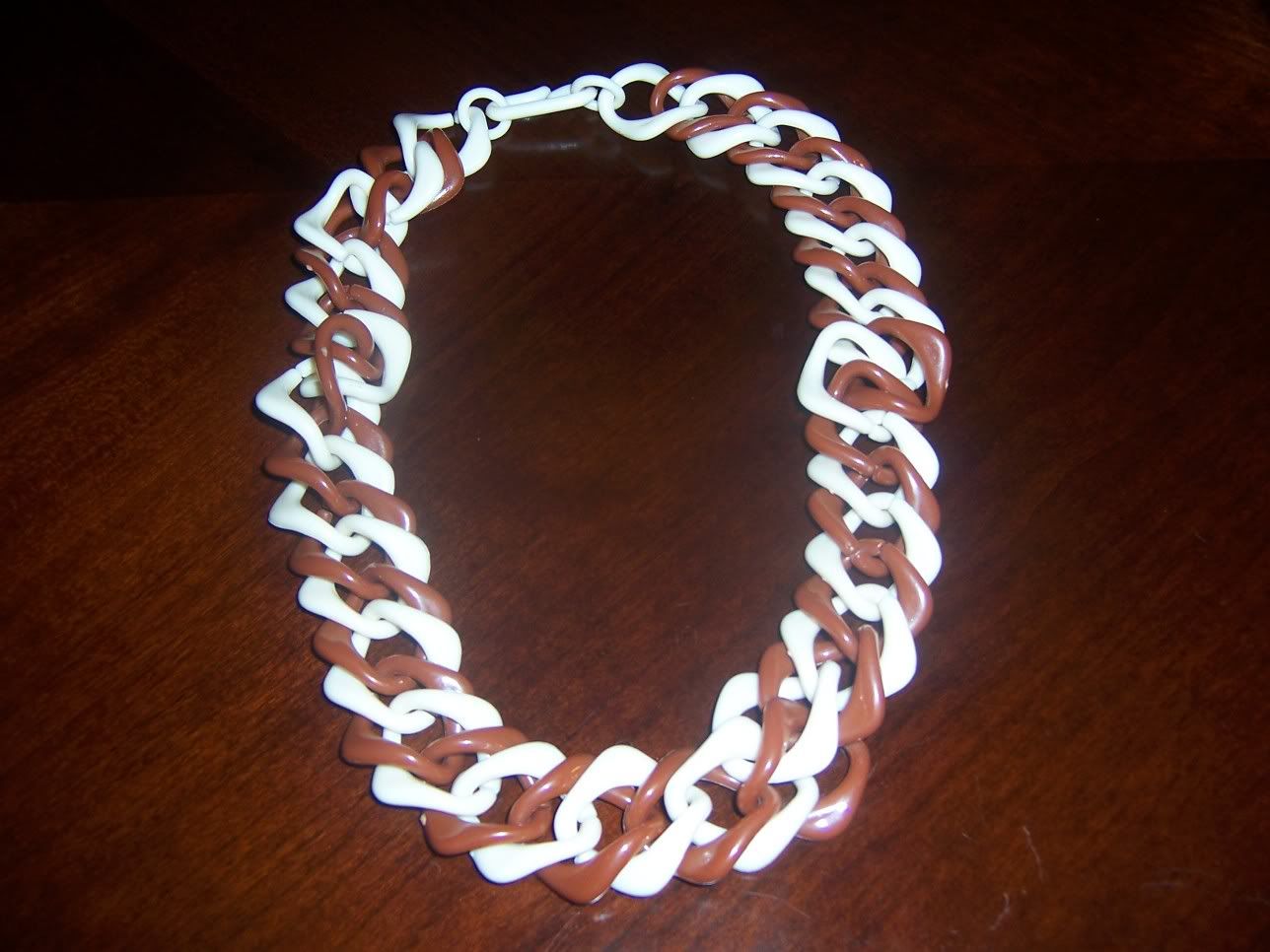 Cancer is gentle and sensitive. Accordingly, old concert T-shirts are prized keepsakes because they hold sentimental value. Even better if the tee happens to be cut from a soft and cozy fabric. Too bad concertware never comes in cashmere! Check out these vintage tees from
Wolfgangsvault.com

Greatful Dead tee from September 3, 1977.

Martha & the Vandellas from a May 19, 1967 show.
What I really love about Cancer style is the variety. Cancer is a water sign, ruled by the moon. This makes the sign quite moody, and likewise, Cancer dresses according to the mood. In essence, Cancer fashion philosophy is to do as you feel. This means soft and flowy one day, might be stiff and structured the next. Pastels this week are traded for brights next week. Of course, using vintage pieces will up the style factor across the board.

Short, neon floral for when you're feeling zany. Drapy, earthtone flowers for when you're feeling a little bit hippy.

Primary colors for when you're feeling bold. Pastels for when you're feeling soft.
Dark patterns for when you want to wallow in the darkness. Light colored ones for when you want to grab the spotlight.
Learn more about the 4th sign of the Zodiac from these great Web sites: www.llewellynjournal.com and www.newagenotebook.com
Tags: astrology, cancer, horoscopes
Leave a Reply
You must be logged in to post a comment.