Posh PVC?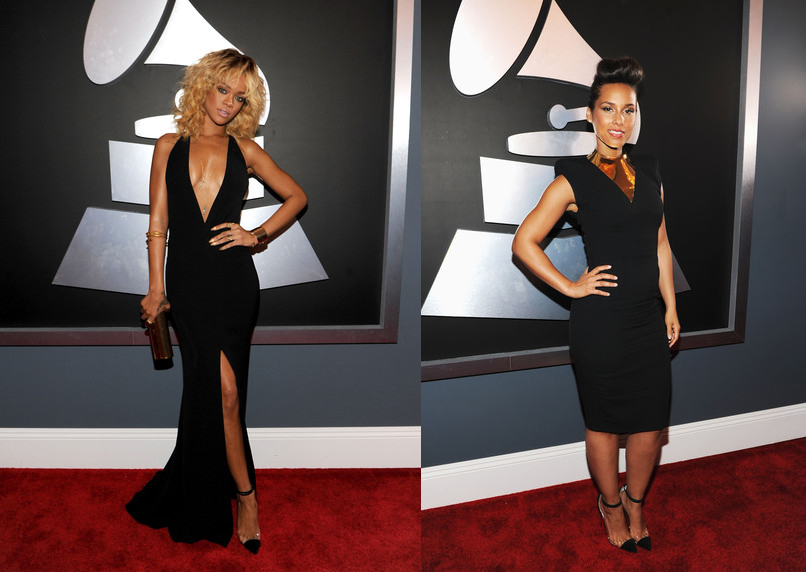 Last night in Los Angeles stars from the music industry filed into the Staples Center for the yearly popularity fete. Having given up on the awards portion of these shows long ago, the red carpet is usually my main event. Of course this year I was among the many anticipating Jennifer Hudson's Whitney Houston tribute. It was the aural (and emotional) highlight of the evening, while visual treats came in the form of several beautiful black gowns on the red carpet.
Rihanna (in custom Giorgio Armani) and Alicia Keys (in Alexandre Vauthier Couture) wore two of my favorite looks of the evening – both wearing sleek & sexy black dresses with slick gold accessories. Notably, they also both wore the same shoes: Unbout Illusion from Christian Louboutin's Spring 2012 collection. Though the black version seen on the music stars isn't readily available, a neon yellow pair is currently retailing for $795 at Neiman Marcus online.
Now if you appreciate fashion for the momentary eyegasm that it is, you might not bat an eye at that last statment. For years, that was my stance. But the more I grow in by sartorial beliefs, the more repulsed I am at the thought of spending those kind of resources on a pair of plastic shoes. Yes, PLASTIC. Those sexy and expensive pumps are made, largely, of PVC – a.k.a. Polyvinyl chloride, a.k.a. prime phthalate vehicle. I'm all for investing in good clothing and accessories, but I expect that the pricetag reflect the craftmanship and materials. In this case, it looks like it's mostly the name your buying. No thanks.

For more Grammys 2012 Fashion, please visit BeatStylist.com
Tags: alicia keys, christian louboutin, grammys, music, pvc, rihanna
Leave a Reply
You must be logged in to post a comment.