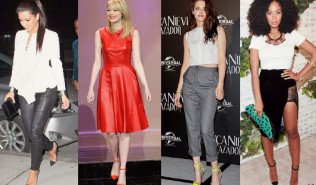 Last night in Los Angeles stars from the music industry filed into the Staples Center for the yearly popularity fete. Having given up on the awards ...
Singer Florence Welch of Florence and the Machine was an easy win for last night's 53rd Annual Grammy Awards red carpet best dressed. She was ...
Jennifer Hudson was simple chic and looking amazing in a Victoria Beckham Spring 2010 LBD. There was plenty of old Hollywood-type glamour on the ...
Let me first say that I really do adore Estelle's music. That's why it's so painful to see her falter in fashion so often. So I was delighted to ...
While her popular music and stage show are rather gimmicky, Katy Perry does have a very interesting voice. And now the girl-kissing singer is showing ...
The 51st Annual Grammy Awards show took place tonight and, as usual, the Cult is fixated on the wears of the evening. The Grammys are by far our ...