Haute Horoscope 2011: New Moon in Leo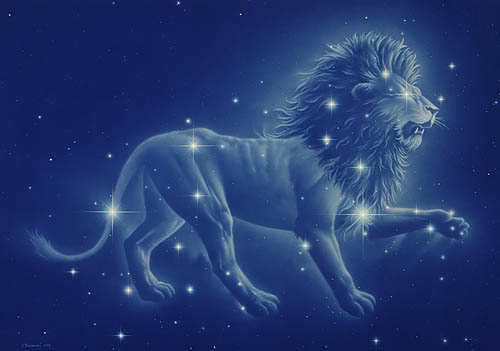 On July 30, 2011 a new moon rises in the constellation of Leo. As with every month, this dark moon phase is a time for renewal and for beginnings. At the new moon it's wise to determine any new directions you'd like to take and state them clearly. Your declarations may come in the form of a journal entry, or in spoken declarations – whatever floats!
Of course, with your fashion goggles on a new moon can mean taking on a new style perspective. Note, this doesn't mean you have to (necessarily) change your fashion profile altogether, but if you've been feeling like you're in a sartorial rut now's the time to climb your way out of it.
Leo lends this period of newness a particularly royal flavor. Even if only in his own head, the lion is the king of them all: proud, dramatic, extroverted, magnanimous, and utterly sexy. If you've been hiding behind your work dress code, blending in with easy trends, or otherwise playing it safe, use the Leo moon to step into the spotlight with attention-getting style statements. Photo: photobucket @maharani_r
If the leonine energy weren't enough on it's own (it generally is), this month it's supported by a conjunction from none other than the planet of beauty herself: Venus. This contact between the two celestial bodies gives us licence to truly lay it on thick. Save modesty for another time and revel in your own beauty and that of those around you. Be free and generous with your compliments (but sincere!) and expect to receive plenty as well. Try your best to receive any praise thrown your way with confidence and never deflect. Remember that you are beautiful and deserving.
The Cult's favorite fashion tip is, as always, to strive for the highest quality obtainable. This in right is line with the royal tone of a Leo moon, but whereas high end isn't always so conspicuous, the Lion craves visibility so much as to even border on gaudy. A piece of costume jewelry is just the thing to indulge in at this time. Balance out any potential kitsch with clean-lined apparel basics. Click the photos below to explore.
Leave a Reply
You must be logged in to post a comment.