Project Runway Designers at New York Fashion Week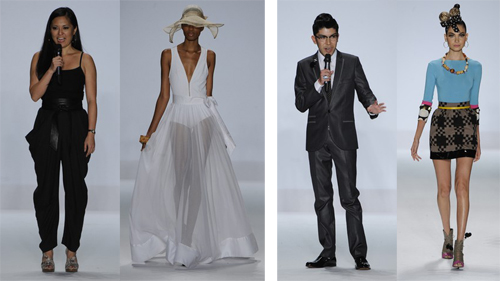 First, allow me to admit that I haven't watched a single second of this season's Project Runway. The show went sour for me a few seasons ago (with some particularly obnoxious and clearly producer-influenced judging decisions). And despite its fashtastic content shows like it and The Rachel Zoe Project have become increasing less worthy of my time and attention.
Nonetheless, the Project Runway final collections are still on the Cult radar because they show during New York Fashion Week. Having not been influenced by their previous competition performance or their on-air personalities, I've selected my favorites from the ten designers who showed at a very lengthy presentation last week at the Lincoln Center. One of my picks is Ivy Higa, whose collection has an easy luxe appeal and seems the most plugged into the current market. I first thought Ivy would be my favorite to win, but the more I look at Mondo Guerra the more I love it. His collection showed a playful yet sophisticated take on pattern mixing and color that's sort of Anna Sui meets Luella, with just a splash of Marni in for good measure.
Ivy Higa
[nggallery id=9]
Mondo Guerra
[nggallery id=12]
Valerie Mayen is a somewhat distant third in the Cult rankings, if for not other reason than her very singular perspective. See her work and the rest of the bunch in the galleries below.
Valerie Mayen
[nggallery id=13]
Andy South
[nggallery id=4]
April Johnston
[nggallery id=5]
Casanova
[nggallery id=6]
Christopher Collins
[nggallery id=7]
Gretchen Jones
[nggallery id=8]
Michael Costello
[nggallery id=10]
Michael Drummond
[nggallery id=11]
photos: WWD.com
Tags: nyfw, project runway
14 Responses to "Project Runway Designers at New York Fashion Week"
Leave a Reply
You must be logged in to post a comment.