Vogue Curvy: Progress or Patronizing?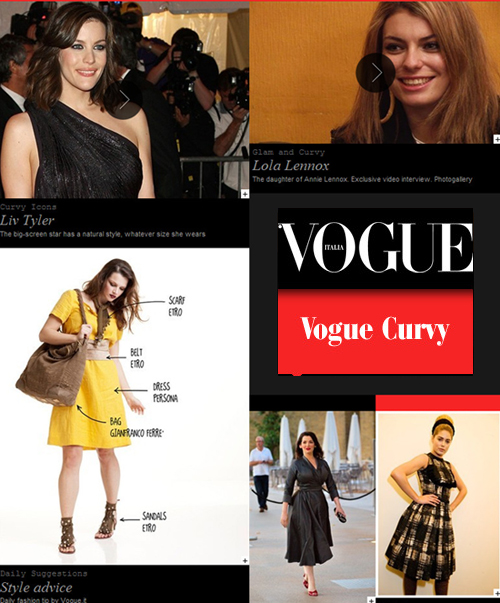 There's something going on in the fashion world. An uprising is brewing and the Wintours and Lagerfelds on high are being forced to recognize that their body ideals are destructive and unrealistic. The people are angry (low calorie diets tend to make you cranky) and ready for change. And like so many rebellions in history, when the people start to stir the powers that be throw them a bone to try to quiet them. Enter Vogue Curvy. No, it's not a magazine, it's a section of Vogue Italia's online presence found at vogue.it/en/vogue-curvy.
Vogue Curvy is devoted to … women with figures. That section leads with a video interview with Crystal Renn, who talks about how amazing life became when she decided to stop starving herself and eat salad with salmon and walnuts on it. Source: The Cut – nymag.com/daily/fashion
A quick look at the site and I found it sparsely appointed and featuring content more than two years old. Then they have the nerve to list Liz Tyler as a curvy icon! If you're looking for inspiration for plus size fashion, Vogue Curvy will probably not be your best bet. Like most "separate but equal" efforts, these facilities are outdated and underfunded. I should mention, too, that the launch of this new mini-site is simultaneous to the launches of Vogue Black and Vogue Talents – which are devoted to black people in fashion and emerging designers, respectively. The message from the biggest fashion franchise in the world: it's okay if you're fat, black, or unknown, but we don't have room for you in our stately halls.
What's next? A "fat" section at fashion shows for anyone larger than a size 4? Will a size 6 with long legs and a good girdle be considering "passing?" Can the separate but equal routine work in the longterm? American history says the answer to that is a resounding NO.
My outlook isn't entirely cynical. I realize that many movements start with superficial, well-intentioned-but-awful measures. Ultimately, however, we can't rely on a franchise whose High Priestess is the likes of Anna Wintour to provide us with meaningful angles on fashion for average women. Thankfully, the blogosphere is officially on fire and there are plenty of plus & real-size fashion blogs that translate fashion Culture into advice for the average woman. Here's a quick reading list:
Black Cat Plus
Fat Chic
The Manfattan Project
Big Girls Browse
The Budget Fashionista
Fat Girls Like Nice Clothes Too
Pretty Pear
Le Blog de Big Beauty
Fatshionable
Fat and Fab Chic
5 Responses to "Vogue Curvy: Progress or Patronizing?"
Leave a Reply
You must be logged in to post a comment.