Put Your Best Boot Forward
With Halloween here all of the commercial holidays rush us into winter and to the end of the year. The last day of October has also been an unspoken first official day of "boot season" for me; Once November begins, it doesn't matter if it's 78 degrees outside, boots are undeniably appropriate.
Winter in the the southern U.S. is pretty mild – which is great for wearing the seasonal boots like these, which aren't practical in snowier climates.
Marc by Marc Jacobs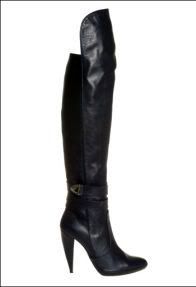 Sergio Rossi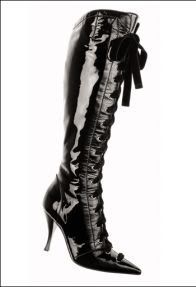 A thicker heel makes high-heeled boots more wearable,
but they're still not as comfortable and wear every day as the flat boot. the equestrian silouette is still going strong this season.
Booties are not so perennial as the previous two styles. The trend creeps around every decade or so to terrorize those of us that don't own impossibly long and slender, super-model legs. Actually I don't like the look of ankle boots, even on so-called ideal figures. Most of the one I find tolerable are so short as to almost pass for shoes, rather than boots.
Too much longer than these and the boots become much harder to wear. These are cute, but they are difficult to make flattering unless worn with pants – which would cover up the interesting embellisments.
The metallic trend continues on into fall/winter and show itself in the season's boots. I imagine it will be around for a few years considering that disco chic is well on it's way.
A trend that I think is much more perishable is the cutout or open-toed boot. That is, I hope so. I don't mind so much the styles that resemble pumps.
One trend that I'm looking forward to completely passing is the cowboy boot. I was over them two years ago, but some designers continue to crank them out. Here's a hideous example from Giuseppe Zanotti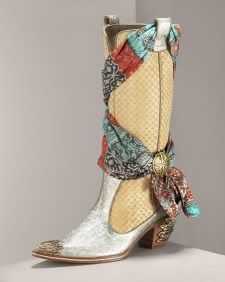 Yuck!I mean, really. Is someone somewhere actually shelling out 1400 dollars for this mess?
Emporio Armani manages to do it a bit more elegance, but I still can't get rid of the image of Dolly Parton when I look at these.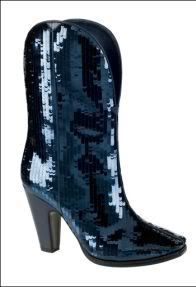 Finally, these from Pucci are actually wearable.

Tags: Halloween, fashion, fall, winter, boots, chloe, valentino, gucci, frye, trends
Powered by Qumana
3 Responses to "Put Your Best Boot Forward"
Leave a Reply
You must be logged in to post a comment.