Around and round we go…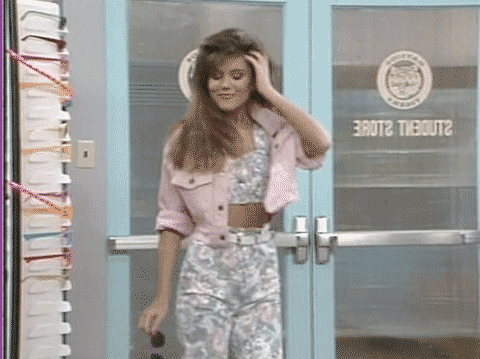 Getting older is such a bizarre experience. Recognizing patterns in your life, in your community, and in the world abroad, it can seem sometimes like the earth is a giant turntable spinning the same scratched up record again and again.
Take Kelly Kapowski here, for example. She's stuck in an endless loop of doing the heartthrob shimmy. A hellish reality, I'm sure, but at least she's got an eternally flat tummy. And she needs it to wear that crop top – the height of hip fashion in her late 1980s, early 1990s existence.
While Kelly's frequency is just over one per second, it takes the fashion world two decades to repeat itself. Consistently, every 20 years a certain style perspective gets another shot at the mainstream. Five years ago (fewer for the less enlightened) this midriff-baring, colored denim, high-waisted floral jeans ensemble would have been an absolute don't. Today the elements are very trendy. You might not see them all together, but the pieces are popping up on runways and on pop culture trendsetters. One of the easiest of these to find right now is floral jeans and pants. See the selection below, powered by Polyvore.com. Animated gif spotted at You Are What You Create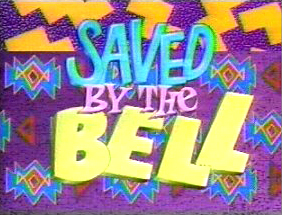 Kelly was a starring character in "Saved by the Bell" – early '90s hit show. The show's title card seen to the left uses colors and patterns that are also seeing a resurgence in popularity right now. Fashion isn't the only sector that's feeling this affinity for what's often referred to as Aztec style. The trend can be seen in interior design, the social sciences, and in fine dining.
Of course, fashion has a way about amplifying and focusing energies so that they are crystal clear (to the inclined, at least). Every garment and accessory you can think of is being covered with Aztec-inspired prints, and the trendy set is even getting Aztec manicures! It's true that this fad is a part of a broader move toward appreciating so-called "ethnic" patterns in contemporary and designer fashion. However, it's important to note how similar the choices are between now at 20 years ago. Around we go again…
One Response to "Around and round we go…"
Leave a Reply
You must be logged in to post a comment.