Milan!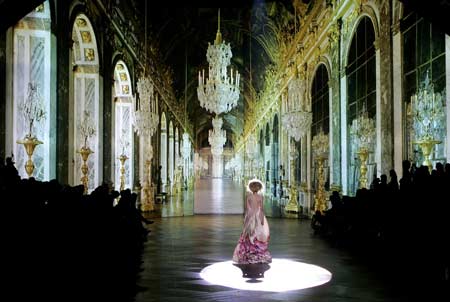 In years past Milan was my favorite fashion week, as it seems that the city hosted the most thrilling and sophisticated collections the industry had to offer. That's changed somewhat, but I still somewhat more excited at the start of Milan fashion week than any other.
The blitz of Italian fashion kicked off today and, unlike the schedule in New York and London, there's no warming up with "emerging" designers before the heavy hitters take the stage. The likes of Alberta Ferreti and Gucci showed today, and both presented a departure from the sheer, non-color, wisp-of-a-show collections we've seen for Spring 2011 so far. Day two includes Sportmax, Fendi, D&G, and Prada. Whew! See the full Milan schedule here.
There's much to be excited about from the spread that lies before us, but the festival (as it were) has not started without it's share of controversy. Namely, a "plus-size" designer, who has opened Milan Fashion Week for the last 5 years was, despite packing its venue with press like the AFP, somehow excluded from the official program.
[Designer Elena Miro's] voluptuous models took to the catwalk flaunting their full figures, ample breasts and thighs, as well as their coquettish smiles, against the backdrop of a romantic black-and-white cafe scene decorated with real flowers.

The independent show was a riposte to the fashion house's exclusion from the official programme of Milan Fashion Week after opening the event for the past five years.

It harked to the 1950s, "when the beauty of women, the round shapes and soft bodies" were de rigueur, the designer told AFP backstage before the show.

"Every kind of woman should be represented on the catwalk," said the designer, whose real name is Elena Miroglio. "This kind of soft woman likes to dress like everyone else."

Miroglio, who herself is diminutive and quite thin, recognises that designing for larger women is more challenging than for the more linear, but said that through her 25 years of experience she had developed the "know-how about proportions and shapes". Read the rest here, spotted on Styleite
Frankly, I think it's bizarre that we even still have this conversation in 2010. It's like discussing whether blacks and whites should use the same water fountains…
On a lighter note, check this very cute video created by the maker of Darcel Disappoints in collaboration with Nowness.

Leave a Reply
You must be logged in to post a comment.