"Runways Fade to White" A Repost from the NY Times
"[I]f there is one area where the lessons of chromatic and racial diversity have gone largely unheeded, it is fashion. This reality was never plainer than during the recent showings of the women's spring 2008 collections in New York and Europe.
Although black women in the United States spend more than $20 billion on apparel each year, according to estimates by TargetMarketNews.com, it was hard to discern an awareness of this fact on the part of designers showing in New York, where black faces were more absent from runways than they have been in years." Click here to read the rest of the article by Guy Trebay…
It's funny. I tend to be fairly racially aware, but I hardly noticed this. I like to call myself someone who doesn't see color when it comes to fashion, but perhaps I'm just kidding myself. Maybe my brain is so thoroughly washed that I only think I don't see. I'm a black woman, with natural hair, who loves the sun, et cetera. Still I never really wanted to be a caricature of an angry black woman with nothing to say outside of the subject of race. I want to appreciate the beauty of a blonde hair or a blue eye without feeling resentful, guilty, or self-hating. The reality remains, however, that popular standards of beauty are very very narrow. Perhaps I should be not more angry, but more vocal about the exclusive representation of beauty in the fashion world. Honestly, I prefer to be more occupied with the clothes than the models, but it must be said: WE WANT MORE MODELS OF COLOR ON THE RUNWAYS!!!!! Okay, did anyone hear that? Anyone? Bueller?
Black models seen on the runways this season. With the exception of Chanel Iman, They really were hard to find. I didn't realize it until I tried.
Alek Wek in Diane Von Furstenberg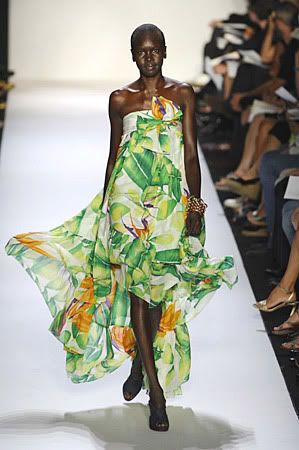 Naomi Campbell in Louis Vuitton

Chanel Iman Robinson in Etro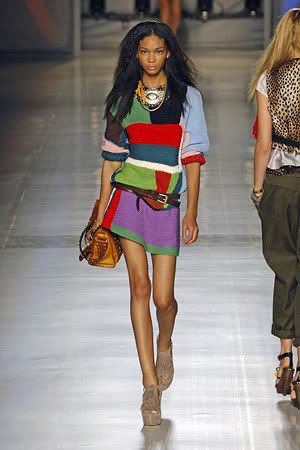 Liya Kebede in Derek Lam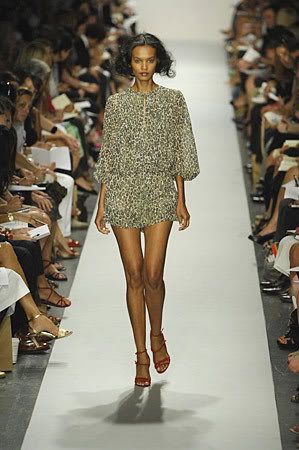 Ajama Nasanyana in Charles Nolan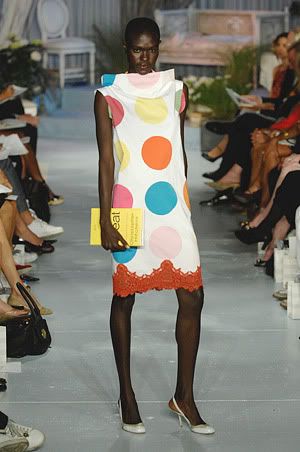 Honorine Uwera in Baby Phat

Tags: louis vuitton, diane von furstenberg, charles nolan, Derek Lam, Etro, Baby Phat, black models, modeling, fashion industry, race, racism, beauty standards, Runway, fashion shows
Powered by Qumana
3 Responses to ""Runways Fade to White" A Repost from the NY Times"
Leave a Reply
You must be logged in to post a comment.