Best Dressed List: The 64th Annual Golden Globes
The 64th Annual Golden Globe Awards took place last night and, as usual, the red carpet was the only portion of the show in which I was interested.
White dresses were so frequent it started to get boring. Especially since everyone seemed to be doing this drapy, grecian wanna-be sort of thing. These two were stand outs.
Consistent with SP07 runway trends, primary colors made a significant showing as well. Red was around, but blue and yellow were my favorite.
Witherspoon accessorizes brilliantly, with adorable red-bow shoes and stacked bangles. In fact, for some stars the accessories were the best part of the look.
I don't care for the dress, but Cameron Diaz's jewels, dark hair, and red lips are perfection.

Jessica Biel's dress was pretty, but her earrings stole the show.

Sometimes, the best accessory is a handsome, well-dressed man. That's right guys; Just stand there and look pretty.
Angelina Jolie wore the only grey gown I spotted… and the only Brad Pitt.

Helen Mirren showed that you don't have to be young to look great on the carpet.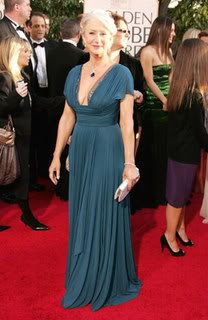 Likewise, you don't have to be rail-thin to be glamourous and beautiful. Several women, of more realistic proportions, were graceful examples of healthy bodies among Hollywood's starved starlets.
Rinko Kikuhi is getting some flack for her look last night. I agree that her hair is just awful (I think I like blond on Asian women even less than on black women), but the dress if fantastic.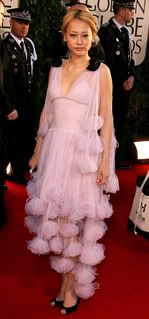 Honorable Mentions: Wearing gold and looking good were Beyonce, Sarah Jessica Parker, Sienna Miller.
Worst Dressed: Heidi Klum (big white tent), Jennifer Love Hewitt (bad prom dress), and Ellen Pompeo (she just always seems a bit off).
Tags: golden globes, fashion, red carpet, hollywood, best dressed, style
Powered by Qumana
Leave a Reply
You must be logged in to post a comment.