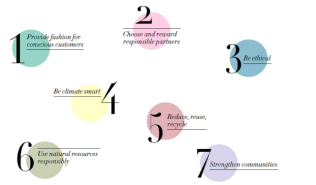 Somedays, when it's slow at work, I'll take a walk around downtown and inevitably find myself at one of the many department stores around Union ...
H&M's creative director Ann-Sofie Johansson has taken the scraps from that Lanvin x H&M collection that so many people went apeshit for, and - dare ...
Last Wednesday shots of an H&M spring 2010 Garden collection hit the netwaves. The line is being billed as the store's Organic and Sustainable ...
Sonia Rykiel *SPARKLES* Fall/Winter 2009/2010 I'm several days late with my woohoo! for the Gaultier goodness on it's way to Target later this ...
Katy Perry vs. Nicky Hilton in Matthew Williamson for H&M peacock dress. It's not really a fair fight, considering Katy Perry's status as a Cult ...