CONFIRMED: Dita Von Teese Clothing Line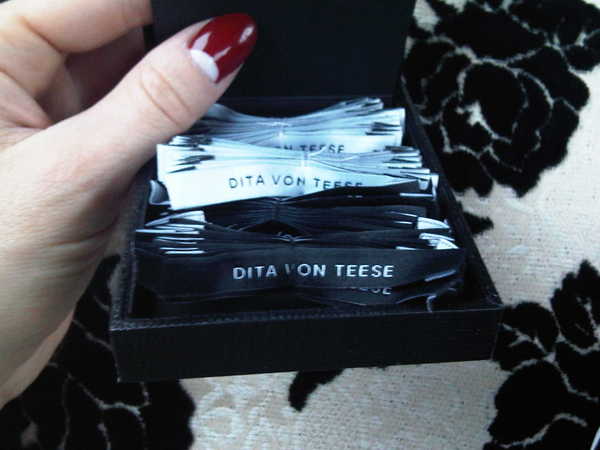 Just as the net was starting murmur about burlesque star Dita Von Teese have a clothing line, it seems the Cult icon has implicitly confirmed the fact. Just moments ago Dita tweeted the above pic with the caption, "It's going to be quite a task to sew all these labels into my clothes!!" So either Ms. champagne glass is going off to summer camp or we will soon be treated to a celeb fashion line worth trying! (I'm betting on the latter)
Earlier this week Von Teese was using the conditional tense when talking about starting her own branded line:
"It would be great to remake those things from the '30s, '40s and '50s. I would be very interested in having a lot of my favorite vintage pieces copied because it's kind of sad there's a lot of great things that are going to be lost, that can't be worn again, that people will never get to see the beauty of vintage."
She also told TheFrisky.com that she would be careful not to simply knock-off her favorite designers, as many celebrities do when they launch a clothing line. Can someone say, Amen?
Source: Splash News, newkerala.com, Twitter @DitaVonTeese
5 Responses to "CONFIRMED: Dita Von Teese Clothing Line"
Leave a Reply
You must be logged in to post a comment.