Balmain is on a Roll – #PFW Spring 2010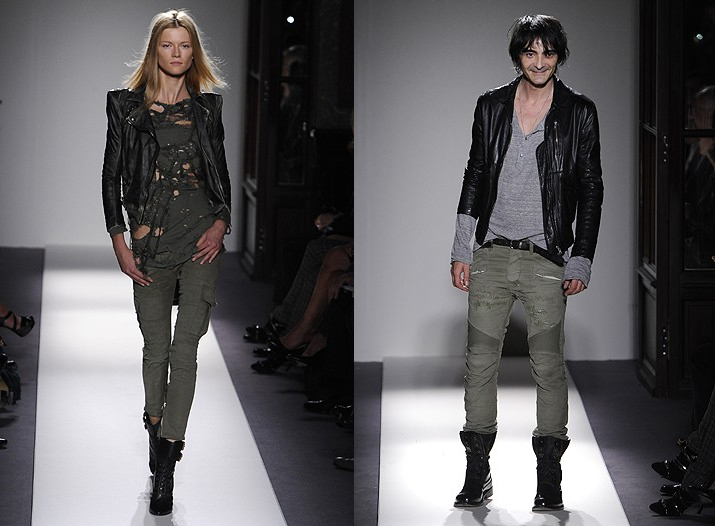 Balmain, which has become one of the biggest rages of the fashion and celebrity set in recent seasons, showed in Paris this week. And thank goodness Decarnin (pictured above, right) had toned down the 80s flavor, which I am entirely over. In other news, the label is riding it's popularity to the hilt, which expansions to footwear and eyewear:
Next month, Balmain's two-story flagship on the Rue François 1er will be shuttered for two months for a top-to-bottom renovation. And chairman and chief executive Alain Hivelin is reviewing the Paris house's network of licenses, guiding certain partners in line with Decarnin's rock 'n' roll aesthetic, and phasing out those who don't cut the mustard.

The brand signed a women's footwear license with Giuseppe Zanotti, effective since the spring 2009 season, which grew out of a runway collaboration stretching back to Decarnin's first show in 2006. A men's shoe line could be added soon. New for next season is a capsule eyewear collection developed with Oliver Peoples.

In total, Balmain has around 20 licenses in Asia and the Middle East, including scarves, small leather goods, ties and men's tailoring. In an interview, Hivelin, who became the house's main shareholder in July 2005, declined to give sales figures, but said Balmain has been profitable since 2005 and logged total annual sales growth of around 60 percent the last three years. Read more at WWD.com…
Boots from Giuseppe Zanotti for Balmain (Click each boot for more info or to purchase)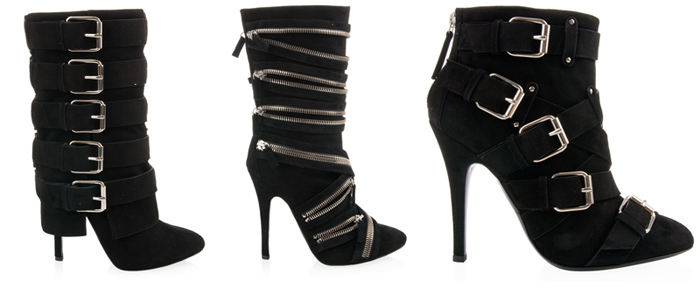 This season Balmain's disco partiers from last year have to forced into a world of decadent decay and militancy. Some of them are still wearing their party clothes…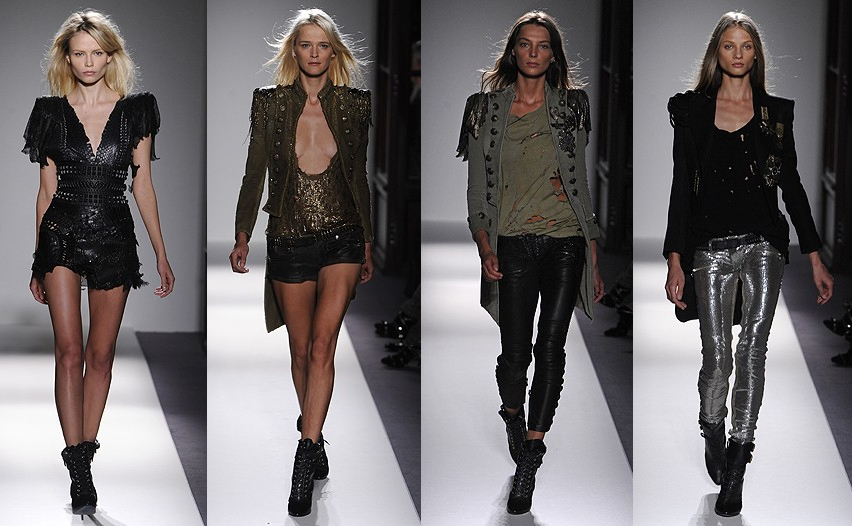 There was sort of an odd music choice for the show, which was just crying out for some rock flair. My eyes were happy, but my ears wanted some Freddy Mercury or Mars Volta… See/hear for yourself:
Tags: balmain, Giuseppe Zanotti, paris, rtw, Spring
Leave a Reply
You must be logged in to post a comment.