79th Annual Academy Awards: The Cult Picks
The Risktakers
When it comes to the Oscars, fashion critics generally seem to just want to see glamour and beauty. Anyone actually brave enough to take a bit of a risk usually gets panned. I'm of a different mind. Wherever and whatever carpet, I admire those who bend the rules and push the limits.

Cameron Diaz is almost always among the risktakers. She's getting flack for this look, but I like it quite a bit. It's fun, eye-catching, and very forward. And check the close up with those lovely green earrings – very chic.

When your a celebrity standing right in the eye of a buzz storm, it must be an ordeal deciding what to wear to an event like the Oscars. My guess is Jennifer Hudson had more than a few gowns to choose from.


Sans the shrug the gown is pretty enough, but rather safe. With the shiny jacket, however, the look goes from pretty plain to hip and daring. The critics don't seem to like this one much either, but I say, Brava!


The one thing I might change is her hair. Swept up might have lended a little more elegance.
The Details
Truthfully, you can't turn on the Academy Awards and expect an avant garde fashion show. It's mostly just pretty people in pretty dresses… yawn. Sometimes, the details and more exciting than the overall look. For example,
Cate Blachette's earrings,
Rachel Weisz' necklace,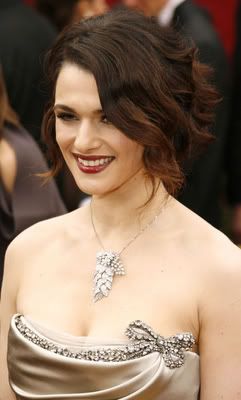 and the bodice of the dress Penelope Cruz wore.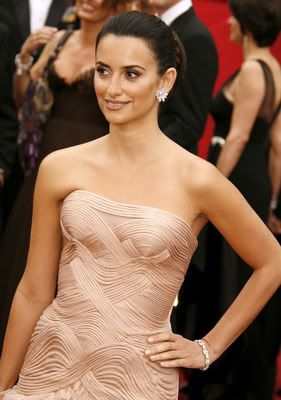 The Old Standbys
Then there are always those few who look consistently good but aren't necessarly style magic.
Jennifer Lopez

Helen Mirren

Portia Di Rossi

The Newcomers
Anika Noni Rose


From the name, you might say, "who?" But Ms. Rose is part of the illustrious Dreamgirls cast and I'm guessing not actually new to the biz at all. She played one of those important, but underappreciated roles. I think her dress will likely go largely unnoticed as well. It was nice, but could have been fantastic if it were maybe a bit shorter – she being so petite, and all. She should also shorten her name: Noni Rose. Sounds like Hollywood to me.
Tags: oscars, academy awards, fashion, red carpet, celebrities, jennifer hudson, cameron diaz, cate blanchett, rachel weisz, penelope cruz, jennifer lopez, helen mirren, portia di rossi, anika noni rose
Powered by Qumana
One Response to "79th Annual Academy Awards: The Cult Picks"
Leave a Reply
You must be logged in to post a comment.