Red Phantoms: Colors Cues from the Mad Men Finale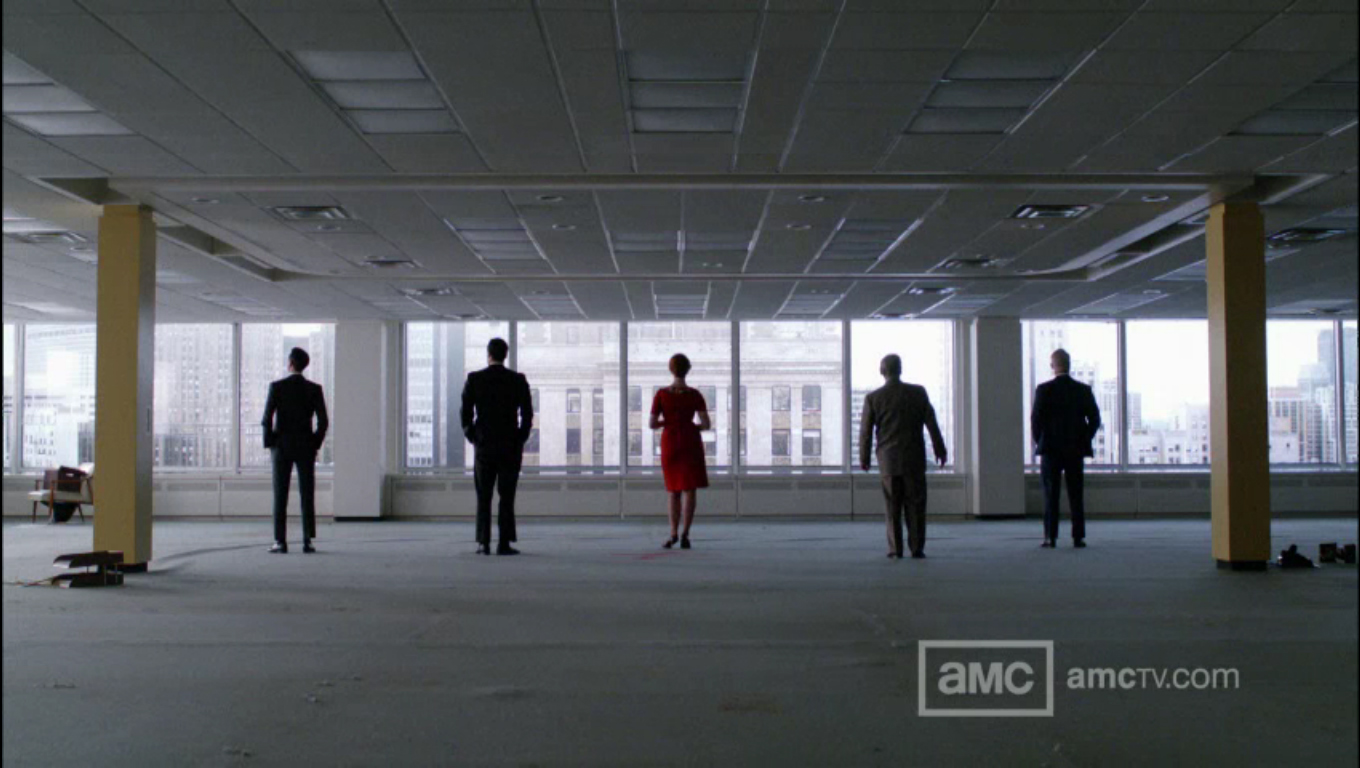 Last night AMC's Mad Men ended it's fifth season with a sweeping display of somber turning points. One could feel the throbbing pain of Don's aching tooth even through the moments of triumph. A sense of gloom weighed heavily throughout the episode, casting shadows that made crimson cues jump off the screen and demand your attention (as if every second of of the episode weren't already being savored like the last sips of your best bottle of bourbon).
Among the most striking of the red flags was near the end of the finale, when Joan and her fellow partners are surveying the terrain of SCDP's newly acquired domain. In her characteristically sexy saunter, Joan leads the men into the new office space and marks a spot with an can of spray paint, saying that it would be the location of a stairwell. The point of ascending is signified with an X. The five cohorts then line up to take in the New York City view, with Joan in her flaming red dress in the center. The scene lingers longer than is necessary for the character dialogue to be processed. Instead, what speaks is the image of red-hot curves standing as the centerpiece of powerful business team. Here, the specter of prostitution looms. The team is in the business of selling sex – and not just by way of pimping out Joan to land new accounts.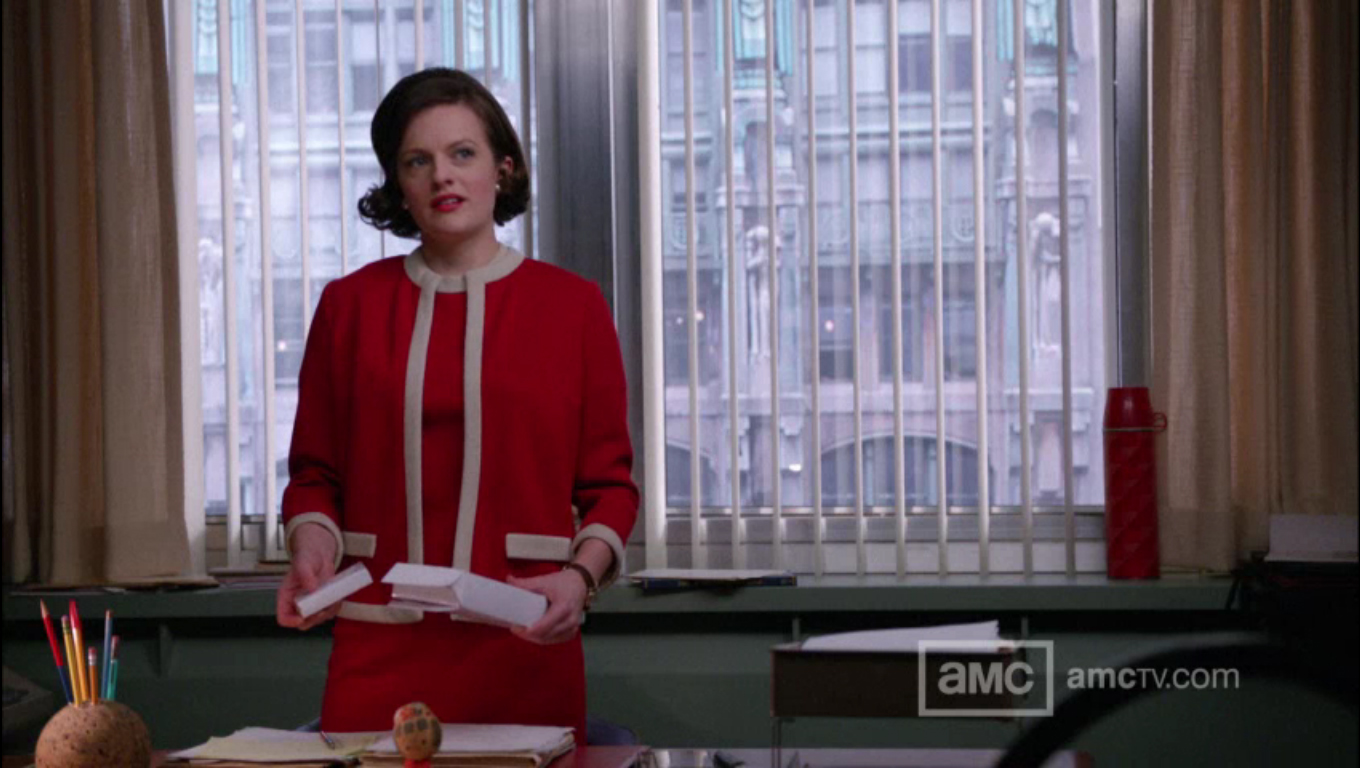 During this episode we also see the defected Peggy in action at her new job. In a scene that opens with her doing her best irritated Don Draper – berating a team of silent underlings – the ambitious woman stands in the shoes she's been eyeing for four full seasons. It's a win she's been stumping for since her circumstantial rise from the secretary pool. It should be triumphant, but it's ugly. The dimly lit scene is as visually unappealing as the drooping shoulders on her poor-fitting scarlet suit. And it's only made muckier by the exchange that follows Peggy's display of relative power, when the man that brought her into the company ignores her repeated statements that she doesn't smoke. Though she's technically a peer to the likes of Draper, she's still a woman – a woman who has been unsexed by her mannish ways and bad clothes. Will we see next season's Peggy haunted by her sacrificed femininity?
As the season ends, some are looking toward new horizons while others are seeking closure. Don skirts a much-needed visit to the dentist, but braves a call on Lane Pryce's widow to return collateral cash that'd been put up to start the new firm. Surely, the ad man was hoping to soothe a guilty conscious with the gesture, but he get's a dignified lashing from Mrs. Pryce who reminds him that he's not truly doing her any favors. And he hadn't done any for Lane, either. Meanwhile, the deceased money man's ghost looks over the scene by way of an empty red leather armchair – as livid as the man was when Don confronted him for embezzling funds.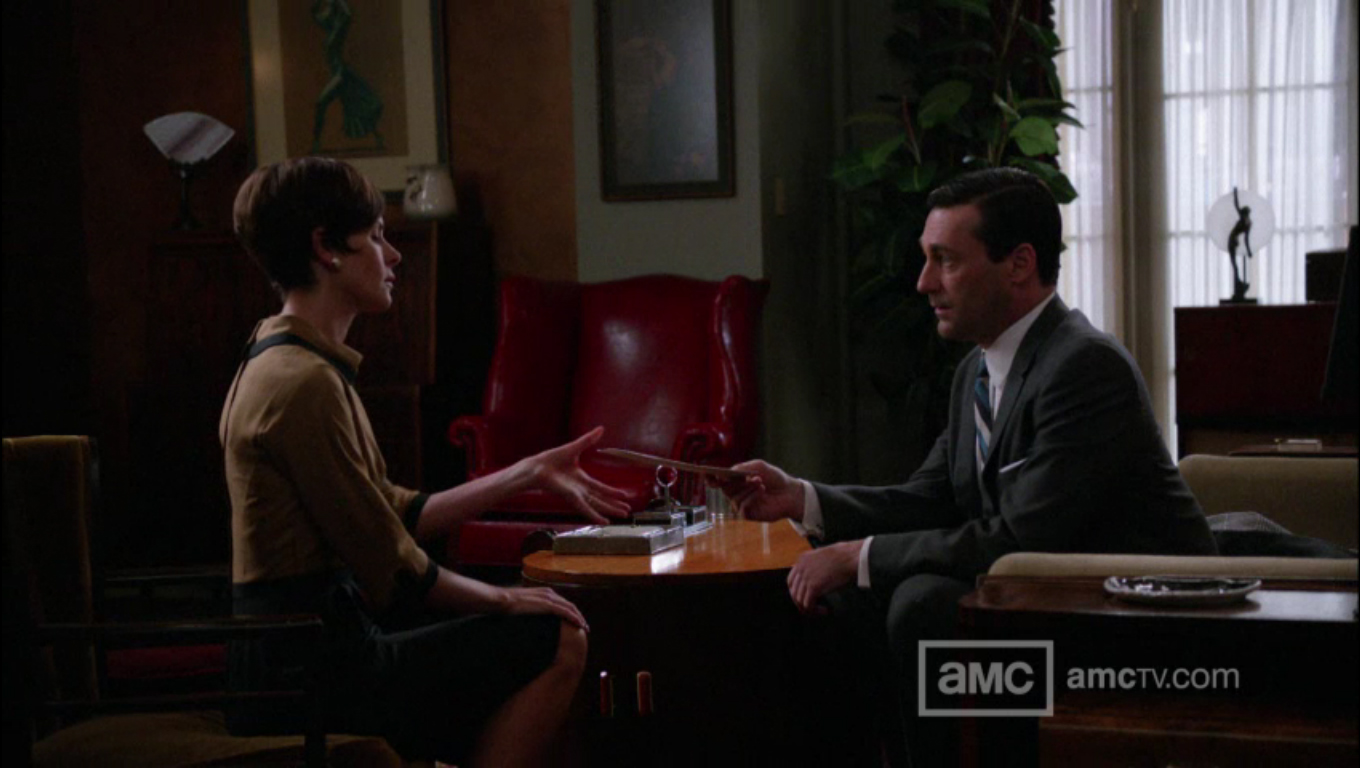 It's not unfounded for Don to try to smooth bumps in the road by throwing cash at them. He keeps trying the trick, and it continues to fail when it really counts. And when it's not dollars in play it's the Draper charm that makes men and women alike bend to his tall, dark, and stormy will. Neither tactic, however, is able to convince the new Mrs. Draper to be content with merely being the Pepper Potts to his Iron Man. Meghan wants a spotlight of her own, and is willing to compromise some of her artistic ideals (and perhaps her happy marriage) to get it. Though Don's ex, Betty, refers to her as a "child bride," this is the first time Meghan's youthful exuberance truly gives way to childish pouting.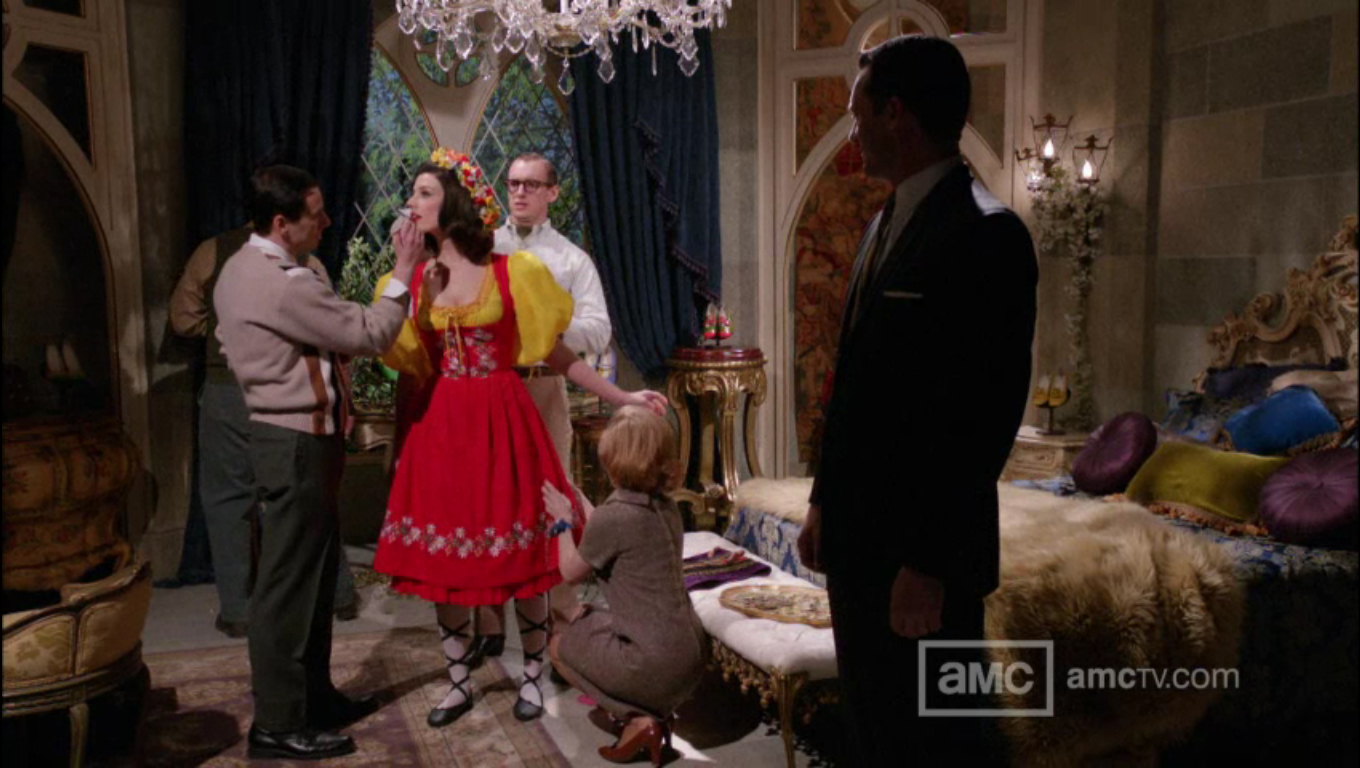 However unbecoming, her brooding is rewarded with eventual success as her husband uses his sway to land her a plum role in a commercial for one of the firm's clients. She beams at her husband with love and gratitude as she takes center stage in a bright red costume, poised under the stage lights in black ballet slippers. The moment recalls Meghan's mother's attempt to soothe her daughter's discontent by saying, "Not every little girl gets to do what she wants. The world can't support that many ballerinas." Meanwhile, Don looks on from a place unfamiliar to the leading man – the shadows. And just like that the contentedness that Don enjoyed at the start of the season is shattered. He and his wrinkled brow stroll through the dark and toward the Old-Fashioned Don Draper, who's respite is found not in the comforts of home, but in the thrill of new conquests.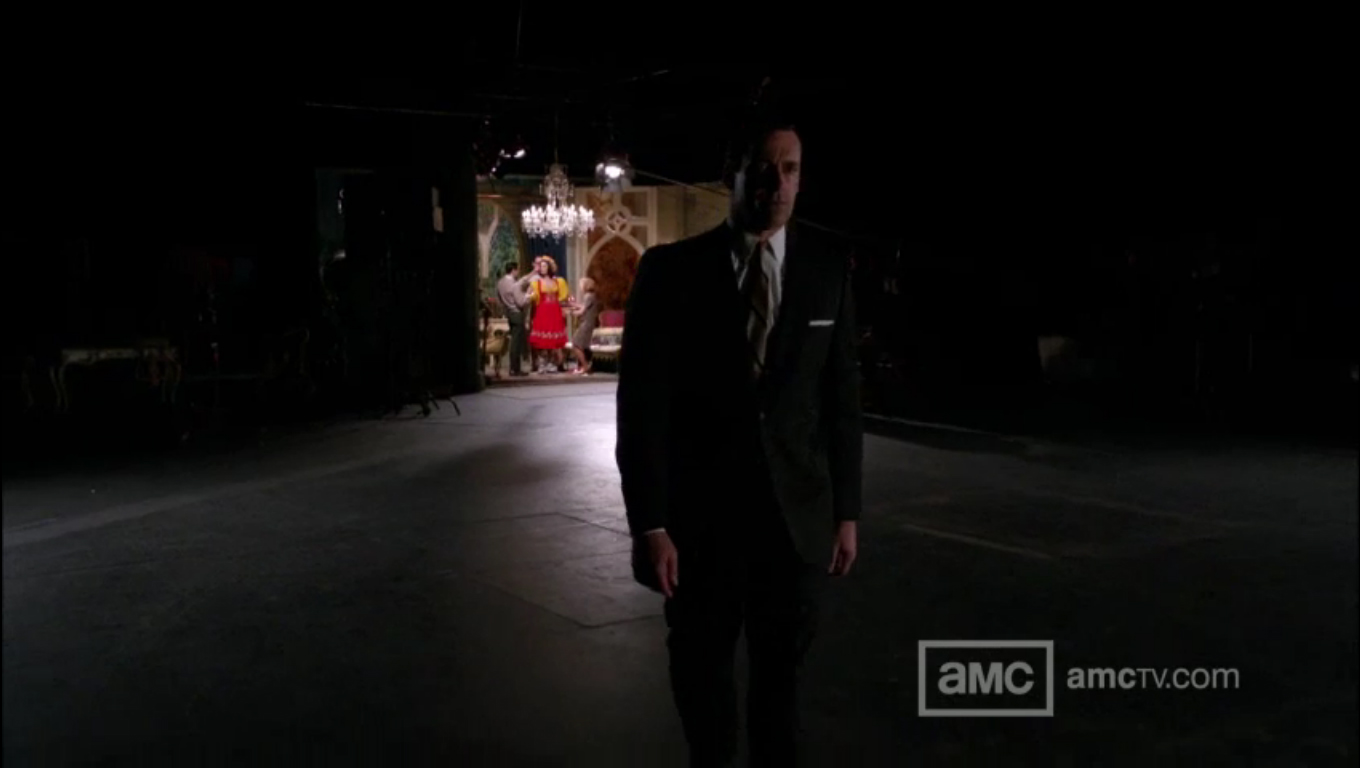 Photos: amctv.com
Tags: mad men
One Response to "Red Phantoms: Colors Cues from the Mad Men Finale"
Leave a Reply
You must be logged in to post a comment.