Resolutions 2012
2012 Top Ten
By Mary
In my opinion the new year begins in the spring. The start a new calendar year, however, is also a good time to take a look around and decide how exactly you want to steer your life through the world. One way to effect your direction is with your image. Like it or not, how you present yourself has an effect on how you experience the world. That's why this year I'm reserving some space on my list of resolutions for a carefully curated style wishlist…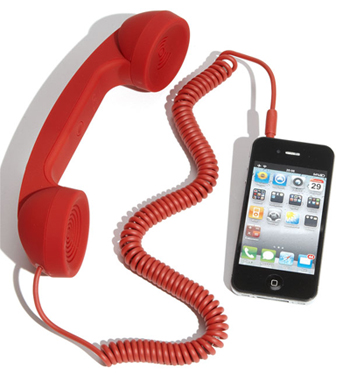 Read the rest on the Oh That's You! blog – on offshoot of the ohthatsyou.com style advice community. I really love the site's philosophy of giving style advice not just according to what's trendy, or what some celeb is wearing (though you'll get these there, too), but on what's appropriate for a particular individual – who's a combo result of their age, lifestyle, cultural background, location, physical makeup, and so much more.
My style resolutions include getting back to work on The List with a good pair of black pumps. I want the best, though, so those probably aren't something on can easily snap up at the start of this calendar year. One thing I can indulge in without breaking the piggy is this red phone handset to use with my cell phone and other mobile devices.
Now this isn't just a frivolous gadget. This handset actually has some health benefits in that it reduces the amount of radiation your noggin absorbs from your phone. Did you know that many phones actually have warnings in their manuals that you should NOT place the phone by your head?! I imagine I'll be spending more time on the phone this year, so this is a completely legit addition to the 2012 wishlist! And one that's pretty easily obtained. These handsets are made by Native Union and are available online at Nordstrom and Amazon
.
Tags: lists
One Response to "Resolutions 2012"
Leave a Reply
You must be logged in to post a comment.