Fashion Jobs Digest: January 2012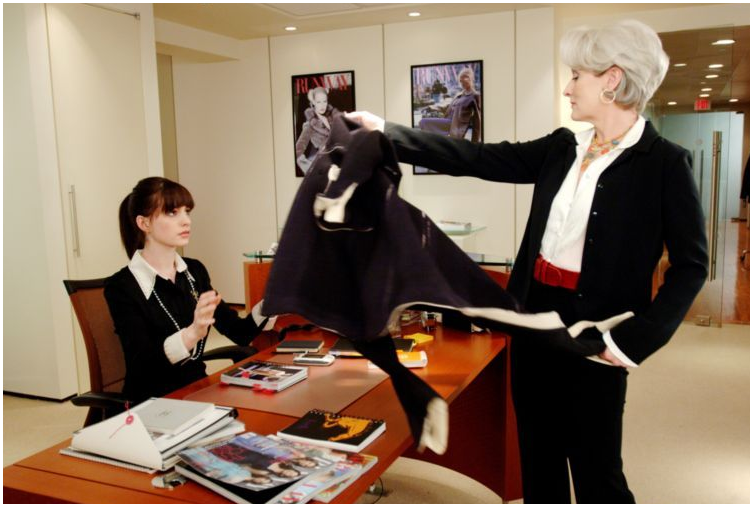 FASHION DIRECTOR
Job Location: New York, NY US
Position Type: Full-Time/Regular
Job Description:
-Direct the fashion and accessory market editors and bookings editor
-Cover fashion market for all fashion, beauty and cover shoots
-Attend American runway and trade shows
-Develop and maintain relationships with designers, showrooms, websites and retailers to provide clothes for Oprah Winfrey
-Forecast fashion trends
-Develop and produce story ideas for all FOB, well and BOB fashion features
-Manage fashion department
-Supervise day-day market schedules of Fashion department
-Manage fashion department budget and cover expenses with Creative director
-Oversee fashion credits and shop guide
-Liaise with fashion writer and editor regarding fashion copy
-Approve all time sheets, vacation requests, expense reports
-Work with Creative director and photo department to set up photo shoot schedule
-Liaise with stylist, Creative director, bookings editor and photo and art department for all photo shoots
-Book and schedule all freelancers for photo shoots
-Coordinate all run-thru meetings with Creative director and editors
***
EDITORIAL DIRECTOR
Job Location: Brooklyn, NY (telecommute negotiable)
Position Type: Full-Time
We're an angel-backed, early-stage startup, with seasoned founders and a stellar advisory board of fashion superstars. And we're looking for the perfect style lover, who is an experienced writer and fashion industry, to help us reinvent the fashion magazine and shape a radically new kind of fashion experience. Our exciting new service is designed for people who have great taste, are obsessed with all things fashion and style, and love sharing their discoveries with others. We're seeking a resourceful Editorial Director who will set and shape a clear and unique voice, and execute a vision for the future of fashion magazines.
Job Description:
Own the overall editorial strategy and editorial calendar.
Propose ideas, produce, write and edit content regularly.
Assemble and manage a team that assists with producing content.
Maintain and expand relationships across the fashion and related industries
Leverage relationships for content and programming.
Identify trends, track developments across the industry, and have a vision for the future of fashion magazines.
Assist in sales calls and meetings as needed.
***
DIRECTOR OF E-COMMERCE & ONLINE MARKETING
Job Location: San Francisco, CA
Position Type: Full-Time
Director of E-commerce and Online Marketing for Online Retailer. This person must have a strong understanding of fashion retail, e-commerce, and be able to develop a strategic business plan.
Job Description:
Develop a roadmap of projects and enhancements to the existing website in support of marketing goals and be able to successfully meet benchmarks.
Manage this important sales channel by ensuring up to date product mix is displayed, merchandized, and fulfilled. Develop, maintain, and continuously improve the user interface and functionality of the website and ensure that external portals such as community pages are working together.
Define and implement strategies and supporting technologies to improve front-end user experience, site structure/information architecture and back-end technical resources.
Maintain and in some cases develop new content, develop new pages, enhance functionality, and ensure overall high quality of the website, community features, and related properties including ad-word landing pages.
Ensure consistent adherence to branding, visual, and style standards as well as compliance with applicable policies and legal requirements.
Report on and provide monthly analysis of the website and community statistics, including recommendations that feed into a continuous improvement plan.
Be able to consistently translate retail marketing activities such as promotions, new product launches, and seasonal campaigns into valid web marketing programs.
***
E-COMMERCE MARKETING MANAGER
Job Location: Los Angeles, CA
Job Description:
The E-Commerce Marketing Manager will be responsible for the marketing of the SpeedoUSA.com website in order to meet the company goals and initiatives for SpeedoUSA.com. The E-Commerce Marketing Manager will be responsible for developing marketing plans including key objectives, strategies and forecasts in order to meet the company goals and initiatives for SpeedoUSA.com. This includes detailed timing and tactics for direct response vehicles to drive sales, customer acquisition, targeted promotions, online advertising and integration with onsite and brand marketing.
Key responsibilities also include set-up, maintenance and monitoring of all website content to ensure accuracy and clear communication. They will be trained and will develop an expertise in the website content management system. In addition, your primary responsibilities will include:
* Drive Marketing for SpeedoUSA.com website.
* Partner with in-house Marketing, Creative and E-commerce teams to determine the content of the Marketing Calendar to support sales goals. Includes all site wide creative needs to support marketing and product content, email marketing campaigns, affiliate and retargeting program needs, natural and paid search programs, direct mail, alternative media and all other marketing initiatives.
* Planning, organization and communication of production schedule and timely execution of all e-mail campaigns, homepages and relevant creative content per the E-Commerce Marketing Calendar in order to drive traffic and increase conversions on the website.
* Partner with third parties to drive marketing initiatives.
* Use Omniture and other business tracking tools to make strategic and tactical recommendations, benchmark, measure and analyze results of on-line marketing initiatives; such as e-mail campaigns, promotions, search engine marketing, affiliate program and future online marketing initiatives.
* Coordinate & contribute to the development of supplemental website content; such as product technology details, swim/fit guides, product collections, as seen in etc.
* Advocate best practices and new industry trends and opportunities for increased web sales and online branding.
***
ASSISTANT BUYER – E-COMMERCE
Location: New York, NY
Job Type: Full-Time Regular
Job Description:
*AEROPOSTALE* The Assistant Buyer manages the demands of a cross-functional, fast-paced, entrepreneurial buying environment, assisting the E-Commerce Buyer. He/she partners with internal teams and the E-Commerce Buyer to provide administrative support to satisfying the financial, operational, and technological demands of the business. The Assistant Buyer is the primary owner of on-site merchandising including but not limited to sequencing, promotions, sample management, on-site quality control of photography and copy. The Assistant Buyer assures that the overall seasonal strategy for the site is executed down to the product level.
SITE MERCHANDISING
– Work with E-Commerce buying team on assorting each collection online.
– Monitor website to ensure that product is active on line and appropriately displayed (image, copy, title, price, color, etc.) on a daily basis.
– Work with GSI and E-Commerce operations team to resolve any issues on a timely basis.
– Ensure that each within each portion of the site products are sequenced according to newness, unit velocity, margin and inventory positions.
– Work with buyers to ensure that sequencing of products matches and supports seasonal strategies and weekly promotions.
– Create and maintain seasonal 'online shops' to ensure that the taxonomy reflects the newest, best shops reflective of the seasonal assortment.
RECEIPT MANAGEMENT
– Work directly with planning, allocation and chain merchant teams to oversee purchase order processing which includes passing Pas, PO reconciliation and approvals.
– Maintain on-orders, initial shipping and receiving, and product samples tracking. Follow through on all problems related to timely receipts.
AD HOC SALES & MARGIN ANALYSIS
– Create, run, and maintain weekly, daily, and seasonal and/or one-time reports.
– Create weekly and seasonal best-seller reporting.
– Assist the Merchant in regular analysis including weekly, monthly, quarterly sales, seasonal recaps, and hindsights of past seasons for future buys.
PROMOTION / PRICE MANAGEMENT
– Translate store promotions to the web and maintain these promotions on a daily and weekly basis.
– Maintain weekly promotions and pricing on site for example 2/for, BOGO, etc.
***
COPYWRITER
Location: New York, NY
Type: Part-Time
Description:
We are seeking a talented individual with superior writing skills to write product descriptions for our products.Work must be conducted from our offices.
Requirements:
• Ability to write professionally
• Detail oriented
• Ability to multi-task
• Computer savvy
• Interest in fashion and/or jewelry
Ideal candidate would also be involved with other business tasks such as customer inquiries and blog management.
Position offers flexible work schedule
***
BLOG WRITER/EDITORIAL ASSISTANT
Location: New York, NY US
Description:
Macy's mBLOG
The Editorial Assist-Blogger, must be a goal-oriented, team player who possesses a general knowledge and understanding of trends among a wide variety of subject matter ranging from beauty & fashion to food & pop culture.
Candidates must possess strong communication skills and the ability to edit and/or turnaround informative, witty copy on tight deadline is a must.
Assist in development of editorial content, themes and specials
Maintain mBLOG editorial calendar
Update weekly content boards
Attend content and production meetings
Traffic blogs through all stages of production
Collaborate with internal FOBs to harvest content ideas
Occasional event attendance required
Work with bloggers (both contract and in-house) to ensure all deadlines are met
Identify new social media trends and mBLOG opportunities
Research competitor blogs/social media activity
***
COPYWRITER
Location: Huntington Beach, California
Type: FREELANCE
Job Description:
The Roxy brand is looking for a copywriter for work on various copywriting projects. Projects include:
* Taglines
* Product naming
* Campaign paragraphs
* Stories about athletes
* Copy for Narrated slide shows
* .com copy
* product descriptions
* Video Copy
* charitable initiative copy
***
Job Location: New York, NY
COLE HAAN COPYWRITER – NEW YORK, NY
Description: Seeking a mid to senior level copywriter to assist copy manager across all channels, from high level concepting to writing copy for print advertising, digital banners, emails, homepages, clienteling pieces, retail signage and more. – Work closely with design on concepting and executing projects that marry strong messaging with visually impactful design. – Interface with merchandising, brand, PR, executive and other depart…
Reference Code: 059278
COLE HAAN VICE PRESIDENT CREATIVE SERVICES – NEW YORK, NY
Description: Mission/RoleVice President, Creative Services is responsible for defining the look, feel and sound of the Cole Haan brand and then directing the creative work to convey that vision across all channels. This person will be responsible for leading and inspiring a diverse team of approximately 20 seasoned Creative professionals across many functions – art direction, photography, graphic design, digital, advertising, copy an…
Reference Code: 059815
COLE HAAN SR. DIRECTOR CHANNEL MARKETING – NEW YORK, NY
Description: Partner with CMO to create and execute the brand strategy globally across all channels – inline, outlet, digital, wholesale, and Energy. Lead planning, development and execution of strategic and creative marketing programs which evolve the Cole Haan brand and drive sales as well as oversee the application of our internal CRM capabilities. Ensure that channel marketing expenditure (approx. $8m) is spent in an efficient an…
Reference Code: 059817
***
JUNIOR COPYWRITER
Job Type: Full-time
Location: New York, NY
Bloomingdale's is looking for a junior to mid-level copywriter who loves playing with words, wit and fashion. You'll be writing playful and dynamic headlines and copy for collateral across a wide variety of media, and will help us to develop really engaging seasonal campaigns.
Key Accountabilities :
– Some experience writing about fashion as a copywriter or a journalist.
– You're in tune with the contemporary fashion voice and know how to have fun with it.
– You appreciate the Bloomingdale's brand DNA of fun, energy and newness.
– Collaborate actively with Art Directors to contribute ideas that are fresh and big.
– Know what's cool. Know what's clich. Know the difference between commercial-speak and conversational pop.
– Follow fashion trends, and general culture trends too. Be into popular culture and fashion media.
– Be confident. Be eager to learn. Be able to take feedback with grace and dignity. Be into working with words visually.
– Be analytical. Know how to ask the questions to get the answers you need.
– Specialized knowledge of shoes and jewelry (not to mention foodie-culture and the beauty buzz) doesn't hurt.
– Most of all surprise us!
***
COPYWRITER
Location: Hebron, KY US
Description:
Amazon.com is a leading online retailer and premier brand. We are looking for a talented copywriter to work for MYHABIT, a new stand-alone flash sale site. This role will be responsible for entering measurements and other data for products. This role may also include writing original content that accurately describes product features and editing incorrect information as needed. The Copywriter will be responsible for ensuring valuable information is provided to the customer that will influence purchases and drive sales, and ensure the customer experience is first-rate.
Responsibilities:
-Taking accurate data notes and uploading this information to the site
-Writing accurate, grammatically-correct product titles and descriptions
-Providing quality assurance on existing information provided and making changes as needed
-Providing exceptional quality copy and details about each item in keeping with the MYHABIT voice and brand
-Maintaining up-to-date knowledge of current fashion trends, clothing styles and terminology
-Maintaining a high productivity level and working with the Seattle business teams to meet aggressive service levels
***
COPYWRITER
TYPE OF POSITION: Full Time Regular
WORK HOURS/SHIFT: 1st Shift
JOB DESCRIPTION:
Chico's FAS, Inc. – The Web Fashion Copywriter is responsible for providing witty, clear, and compelling copy for online fashion products with a specialization in product copy romance. Ensures all product descriptions outline the key benefits of the product in an entertaining, informative way so that customers can make an informed purchase.
FUNCTIONAL RESPONSIBILITIES:
• Writing all web product copy which includes: naming products, writing descriptions (introduction lines, fit/fabrication descriptions, care, and pricing), tracking Merchant changes, loading copy onto web development server, proofing, and making updates.
• Coordinating flow of products from Ft. Myers and studio shoot locations.
• Providing weekly schedules to help manage product copy production.
• Partnering with Merchants and Designers to make sure all key product elements and marketing points are represented in product descriptions.
• Supporting the DTC copy department with new ideas and creative solutions to challenges.
• Contributing to developing and maintaining the brand voices, in witty, sophisticated, clever, playful, helpful, authoritative, humorous, friendly, genuine, and warm tones.
• Helping establish the brand as the best creative copy in retail.
• Constantly raising the bar on developing the best creative.
***
MANAGER, E-COMMERCE MERCHANDISING
Location: San Bruno, CA, United States
Type: Full-Time – Exempt
Description:
Stella & Dot is a profitable, $100mm+ and rapidly growing company on track to become a billion dollar, global fashion accessories brand As Manager-Ecommerce Merchandising, you will be responsible for driving the strategy and implementation of all online SKU merchandising setup and presentation, sales and promotions, and merchandising technology innovation. Enhance the brand through editorial style authority, and providing stylists with the tools that they need to book and sell more at Trunk Shows. PRIMARY job RESPONSIBILITIES:
* The creation and maintenance of home page categories Stylist training (merchandising): via video and other mediums.
* Recommend Sample Lists, Stylist Display How To's, identify Q&A opportunities to continue to train, set up Trend Watch tool Manage flow of information including; web shoots, product descriptions, cross sell recommendations, style tips, categorization, rankings and product videos
* Update all assets as it relates to photo and video galleries Create seasonal templates for online invitations (evites), emarketing, Trunk Show collection DVD's and Trunk Show display PDF's.
***
SENIOR COPYWRITER – INTERNET
Location: New York, NY
Employment Type: Full Time
Description:
Our client is looking for a Senior Copywriter to contribute to our in-house online creative team. Must be enthusiastic, organized person to help capture the season's important fashion/cultural trends and keep our online advertising modern, innovative, and inspired.
Key Accountabilities:
– Ensuring consistency and adherence to website copy standards
– Writing informative, brand-right descriptions
– Effectively managing the production workflow for assigned families of business
– Attend all merchandise presentation meetings, make note of all new merchandise
– Maintaining high standards for writing and proofreading
***
PRODUCT COPYWRITER
Location: Miami, FL
Type: Part-Time
Description:
Max & Chloe – Our company is a high traffic, online and catalog jewelry retailer. We are seeking a talented individual with superior writing skills to write product descriptions for our customers. Merchandise consists primarily of fashion and fine jewelry.
Requirements:
• Ability to write professionally
• Detail oriented
• Ability to multi-task
• Interest in fashion and/or jewelry
Position can offer flexible schedule while working 16 – 32 hours per week. The selected individual must work at our location.
***
COPYWRITER
Location: VERNON,CA
Type: Free-lance, Full time
Description:
BCBGMAXAZRIAGROUP
• Develop unique conceptual ideas and communicate these through creative writing skills
• Maintain the voice of various brands through consistent and creative writing
• Develop creative copy to speak to visual assets showcased through marketing collateral, websites, mass emails, store windows and interiors, and more
• Occasionally develop product description and content, including fabrication, silhouette and sizing information, for various marketing uses
• Ensure that written marketing content is accurate and consistent, and incorporate revisions according to current routing procedures
• Work on special projects as needed from internal communications to brand messages, press releases, recruitment brochures, directives and more
***
SENIOR COPYWRITER
Location: Long Island City, NY
Description:
NET-A-PORTER.COM – We have a fantastic opportunity for an enthusiastic individual to join our editorial team as a Senior Copywriter. The main purpose of this role is to write the copy which appears alongside each item of clothing on the site and help with the smooth running of the Product Editorial Department. You will assist the other Product Writers and support the Editor to meet the weekly upload deadlines. There will also be opportunity within this role to gain invaluable writing and editing experience in an environment that balances creativity with commerciality. We are looking for a highly organized individual with excellent communication skills.
Responsibilities:
The Upload
Enter first draft descriptions of product descriptions and details for weekly US uploads ensuring that they are accurate, concise and informative
Check over the list of products to be uploaded, looking for exclusives, new brands or other highlights to communicate to the wider team and research prior to writing descriptions
Input and check all the outfit styling links on the product page added to encourage cross-selling
Check over all uploads in in-house system and on live site, making note of edits and double checking for accuracy
Assist with the sample flow process, anticipating problems and ensuring writers have product to write from. Communicate sample problems to Studio Coordinator and Sn. Product Editor
Copy check the upload in absence of Sr. Product Editor
Team Support
Mentor Junior Writers, helping them settle into the team and assist with their training on a daily basis
Act as a point of contact and reference for the other writers in absence of Sr. Product Editor and Managing Copy Editor
***
SENIOR E-COMMERCE COPYWRITER
Location: Lyndhurst, New Jersey
Barneys New York, a leading luxury retailer, is committed to providing the best of everything: merchandise, customer service, and innovative people with creative ideas. We are currently seeking an experienced Senior E-Commerce Copywriter to head the copy team for Barneys.com.
Responsibilities include, but are not limited to, writing SEO-targeted product descriptions and editorial content that adhere to the Barneys New York voice and brand. The position requires coordination with the buying, merchandising, marketing, and photography departments, and therefore excellent communication skills are a must.
Responsibilities:
– Write compelling product copy that adheres to the established voice of Barneys New York
– Partner with merchandising, marketing, photography and buying teams to ensure that products are posted accurately and in a timely manner
– Research products and designers to provide editorial content for Barneys.com
– Coordinate with photography and buying departments to manage physical inventory
***
BUYER, WOMEN'S DESIGNER RTW
Location: New York, NY
Job Type: Full Time Employee
Description:
Barneys New York, the world's leading luxury retailer, is committed to providing the best of everything: merchandise, customer service, and innovative people with creative ideas. We are currently seeking a Women's Designer RTW Buyer for our corporate office in New York. The Buyer is responsible for the selection, development, and procurement of all merchandise within the department and the performance of that merchandise as outlined in seasonal and annual plans.
Responsibilities:
– Maximize sales and profitability of the women's designer RTW business through the development and implementation of strategy and reactions to sales trends
– Manage vendor performance to maximize profitability and achieve financial objectives
– Maintain collaborative partnerships and negotiate effectively with vendors
– Complete accurate forecasts and evaluate current trends and other components that will affect the business
– Manage an effective and accurate open-to-buy reconciliation
– Develop the Assistant Buyer with on-the-job training
***
EMAIL MARKETING MANAGER
Location: New York, NY
Job Type: Full Time Employee
Barneys New York, the world's leading luxury retailer, is committed to providing the best of everything: merchandise, customer service, and innovative people with creative ideas. We are currently seeking an Email Marketing Manager in our corporate office. The Email Marketing Manager will support the Senior Digital Marketing Manager in all email production and planning. This role will be responsible for the implementation, execution, and reporting of all email marketing campaigns. We'll also look to the Email Marketing Manager to keep us current on email marketing best practices with regard to content strategies, data capture and campaign analysis, deliverability, and CAN-SPAM compliance. We are still in the process of developing and testing our email marketing strategy so this role will offer an exciting opportunity to take part in the process design and contribute to the creation of our strategy.
Please note that in order to qualify for this job you need to have HTML writing and editing skills.
Responsibilities:
· Assist in providing vision, strategy, and leadership for the email channel.
· Manage email production and coding for all campaigns.
· Maintain our email calendar with accurate dates and email content. This involves segmenting, building, quality testing, tagging, and approving all email campaigns by checking for accurate email copy and imagery.
· Coordinate, manage, and align resources across business units and functional teams to produce engaging email campaigns.
· Maintain historical records of emails complete with a binder of printed email creatives and results summaries.
· Manager all customer segmentation to accurately target contacts for each email campaign.
· Continuously optimize and communicate critical email performance metrics such as open rate, CTR, conversion, $ per circulation, etc.
· Recommend new ideas and innovations to grow and improve the email channel
· Collaborate with internal stakeholders to dovetail online and offline initiatives, maximize the reach of internal business units, and reinforce the brand design, presence, and voice.
***
E-COMMERCE STUDIO MANAGER
Location: New York, NY
Job Type: Full Time Employee
Barneys New York, the world's leading luxury retailer, is committed to providing the best of everything: merchandise, customer service and innovative people with creative ideas. We are currently seeking an E-Commerce Studio Manager at our office in Lyndhurst, NJ.
Responsibilities:
· Manage and lead a team of in-house and freelance product and fashion photographers, retouchers, models, stylists, studio assistants, garment preparation staff, and other necessary talent to help support the online business
· Develop business processes that ensure work flows through the studio efficiently and on schedule and that resources are invested in appropriate daily/weekly/monthly priorities in order to support the overall priorities and needs of the business both in store and online
· Work closely alongside the lead merchant and online merchant team to review requests for photo shoots, quality control and overall site appearance, prioritize projects/sample management, manage deadlines, and allocate resources appropriately
· Manage all aspects of photo studio operations including budgets, production/staffing schedule, equipment investments, and space expansion plans
· Maintain pool of high quality creative and operational talent that will ensure smooth product flow throughout the studio to meet expectations in quality and timeliness
· Serve as a leader and primary point of contact for other departments within (retouching, photographer, and copy) as well as outside of the studio, such as the warehouse and shipping/receiving departments
· Plan and track all projects and provide daily and weekly updates to merchandisers and the buying team as well as with the executive team in order to identify opportunities and/or weaknesses to reevaluate
***
JUNIOR PRODUCT STYLIST
Location: Mahwah, NJ
Description:
NET-A-PORTER is seeking a talented and original Junior Online Product Stylist with strong fashion sense, to work with our studio team in bringing the NET-A-PORTER repertoire of products to life. You will use innovative and eye catching styling and thereby constantly improve the shopping experience at NET-A-PORTER. This is a great role for someone who wants to be involved during a critical stage in the development of what is an iconic luxury e-tailing site.
Day-to-day Responsibilities:
– Style lay down shots that accurately depict clothing
– Shoot a minimum of 20 product shots daily
– Follow house styling guidelines
– Attend workshops and team meetings to maintain quality of images and site
– Achieve daily and weekly deadlines to prepare for uploads.
– Learn on set standards and styling techniques
– Learn to use company systems to assist with job role
– Work as part of a studio team to meet deadlines and ensuring great communication
– Ensure no more than 5% of your images are reshot per week.
– Responsible for own reshoots and co-ordinate as required
– Communicate workflow statuses and concerns to Team Leader and Studio Production Co-ordinator
– Ensure sample stock is not mis-handled
– Maintain an organized and ordered photo studio
– Develop strong, up-to-date knowledge of designers, brands, trends and NET-A-PORTER editorial.
– Maintain a good balance of targets and creative flair
***
COPYWRITER
Location: New York, NY
Job Description:
Victoria's Secret
Write and edit fashion copy that builds the brand through tone, style, story and content. Partner with Merchants and Marketing to ascertain key messages. Partner with Design, Graphic Production and Coordination on creative projects. Manage content from concept through final execution. Deliver copy that is consistent with brand voice. Meet all deadlines for efficiency. Attend all relevant meetings to gain insight into product and key stories.
RESPONSIBILITIES:
-Understand brand elevation goals and consistently drive towards innovative, on-brand copy
-Translate Merchant and Marketing initiatives into strong, sophisticated creative solutions
-Write catalogue/web product copy and display copy
-Execute rewrites post editing, layout/film reviews and merchant corrections
-Oversee personal project workflow and ensure all deadlines are met with accuracy
-Interface and partner with Photo, Design, Graphic Production, Web and Coordination teams
-Work with Directors and Managers to make sure copy is on-trend, on-brand, concise, compelling and cohesive across catalogue and web
-Contribute to naming projects and creative brainstorming
-Research merchandise/product launches with merchants, the fashion team, and the market; actively collect and share competitive and industry patterning
-Proofread copy to ensure clarity, accuracy and consistency of style
***
PRODUCT COPYWRITER
Nordstrom
Description:
Responsibilities:
– Write new product copy for approximately 40 items each day
– Work with merchant teams to accurately and effectively communicate product information
– Follow through on obtaining necessary product information
– Manage new items' copy deliverables
– Grow product page content areas to meet needs of customer and merchants
– Consistently target product page opportunities for maximizing sales and the quality of the customer experience
– Develop an understanding of apparel fabrication and content, fit and other technical product details
– Stay up-to-date on current fashion trends and terminology
– Maintain live product pages, making adjustments and corrections as needed, quickly and efficiently
***

MUSIC & FASHION BLOGGER
The Fashion Cult is hiring! Become a blogger for our music-meets-style sister site BeatStylist.com.
See details and apply HERE

photo: ign.com
One Response to "Fashion Jobs Digest: January 2012"
Leave a Reply
You must be logged in to post a comment.