2010 Primetime Emmys – BEST DRESSED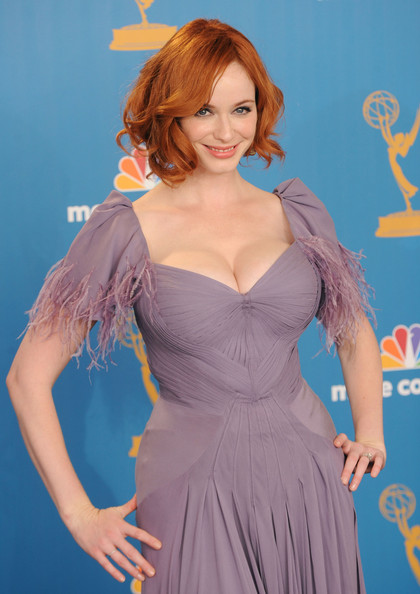 The 62nd annual Primetime Emmy Awards took place in Los Angeles last evening, with the standard red carpet fare preceeding the awards. Their wasn't a lot of "wow" to be seen during arrivals this year. On the other hand perhaps the Cult is simply growing bored with the predictably polished celebrity style circus that is your average red carpet.
There was good deal of black on the red carpet this year – almost enough to call it a trend, if it weren't such a safe color choice. Standouts in the black dress brigade include Kelly Osbourne in a gorgeous gown by Tony Ward. Cult favorites, however, bucked the quasi-trend and opted for cool, dusty pastels. AMC's "Mad Men" won the highly-coveted Best Drama award and two of it's actresses were among the best dressed – stellar odds for such a small batch of Cult picks.
Christina Hendricks (pictured left) was unapologetically curvy in lavender gown by Zac Posen. The actress, who has in recent years been labeled a "big girls," put her big girls on display and showed off a tiny waist. Such is often the dilemma for women with mega mammaries: either hide your chest and make your whole upper body look large, or show that you do have a waist and force your breast to be front and center of attention. It's a catch 22, as in either case someone will snear at your appearance. Kudos, Christina! You are sexy and elegant.
Rounding out the top three is Emily Blunt in Christian Dior and Elizabeth Moss in Donna Karen. Photos via stylebistro.com, style.com & fabsugar.com
[nggallery id=2]
Tags: best dressed, Christina Hendricks, emmy awards, red carpet
Leave a Reply
You must be logged in to post a comment.