Art Spotlight: Katherine Bernhardt on Gilt Groupe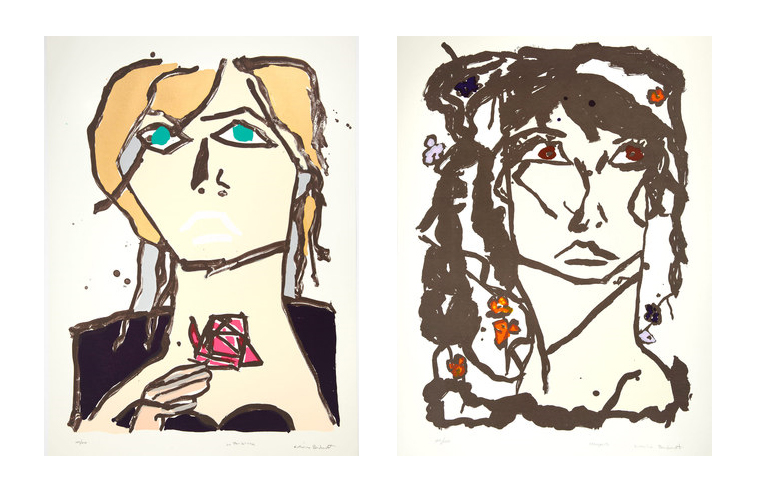 In a world that online sample sales are becoming more common and more trashy, Gilt Groupe stands out as one of the best. The members-only shopping site originally offered mostly women's fashion, but now has dedicated sites for mens fashion, lower-priced brands, and travel packages. Now Gilt has something for art lovers, with a series of exclusive prints by painter Katherine Bernhardt.
Kate Moss. Gisele Bündchen. Agyness Deyn. Katherine Bernhardt has painted them all, transforming magazine images into stunning whirlwinds of eyes, lips, legs and color. Gilt has partnered with art consultancy Art & Advisory to create two exclusive, limited-edition screen prints by the Pop Expressionist. The first, Mangocita, features an intense Penelope Cruz as pictured in her Mango clothing ad. The second, La Parisienne, is an image of Moss inspired by her campaign for Yves St. Laurent's Parisienne perfume. Printed on archival cotton paper, the signed and numbered works are each capped at an edition of 100.
Bernhardt's art resonates with me in it's fixation on the subject of fashion, yet it's recognition of these subjects as grotesque. The women in her paintings are alternately sad and monstrous, all the while carrying the haughty attitude of the modern model. Click here for an invitation to the sale.
photo credits: saatchi-gallery.co.uk
Tags: art, fashion in art, katherine bernhardt, painters, poll
One Response to "Art Spotlight: Katherine Bernhardt on Gilt Groupe"
Leave a Reply
You must be logged in to post a comment.