Victoria Beckham Reaches Out to the Masses
Formerly known to the world as Posh Spice, Victoria Beckham has turned her bubblegum fame into bonefide celebrity. It doesn't hurt that she married an international star athlete, but her sense of style has solidified her status as a fashion lightening rod. Among a slew of celebrity fashion lines, hers is one that's actually has some critical success. The masses, however, will rarely have a chance to assess Beckham's sartorial offerings, considering the average cost of a dress is about two grand.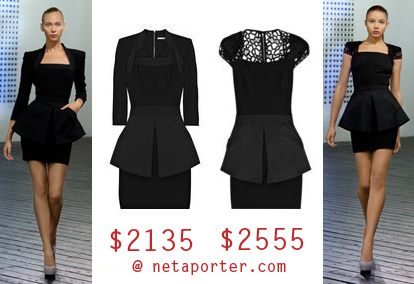 But now Beckham is trying to reach those masses where it counts (their wallets).
With her burgeoning dress business in its fourth season, the Spice Girl-turned-designer has taken her denim and eyewear collections in-house, and has overhauled and renamed each. The new styles will make their debut Wednesday on Net-a-porter.com and at a few select stores. She also has cooked up two artistically chic short films for the occasion that will be shown exclusively on Net-a-porter for a week, and last month redesigned her Web site, victoriabeckham.com, from top to bottom. Her personal appearances will be ramped up in the months ahead, with one at Bergdorf Goodman during New York Fashion Week being a key cameo in February. Television viewers also will get to see the name behind the brand when she tests the talent as a judge on "American Idol" next month. WWD.com
While I don't expect that these jeans and eyewear will exactly be blue light special prices, it's clear that most design houses make the real bucks from the more accessible range of $200 to $400. Still a pretty penny, but how many wannabe fashionistas have you seen sporting some designer logo-laden pair of shades with their Old Navy tank dresses?
Leave a Reply
You must be logged in to post a comment.