More Michelle O. In Europe + Designer's Weigh in on Her Choices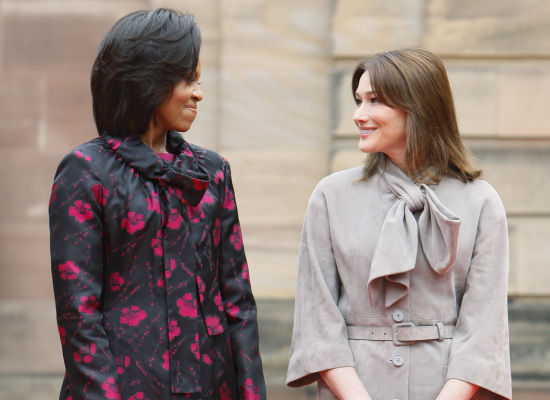 As she and President Obama continue their European trek, the First Lady is constantly on the lips and within eyegaze of tastemakers and fashionphiles around the globe. Today Michelle O. faced the daunting challenge of being relentlessly snapped standing next to a supermodel. I think she came out quite well, although I do wonder if French First Lady Carla Bruni was intentionally slightly dowdy in her generous grey coat. Afterall, Michelle Obama's star power is so intense at the moment that out fashioning her might come off as somehow distasteful. Am I wrong?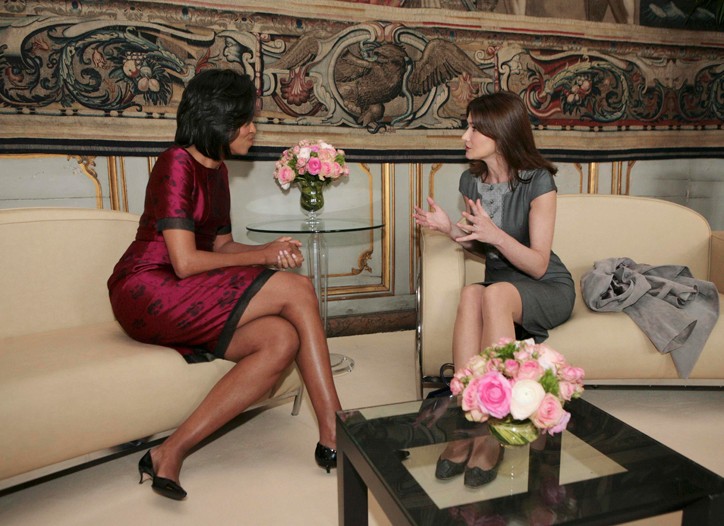 Meanwhile designers are weighing in on the icon's style choices during the European trip, and some are giving less then glowing reviews. Oscar de la Renta echoed the Cult's disappointment in Obama's meet-the-queen look saying, "You don't…go to Buckingham Palace in a sweater." I agree, Mr. de la Renta. The vet designer also seems miffed that the First Lady seems to have well-defined fashion favorites (Jason Wu, J. Crew) and they don't include him.
"American fashion right now is struggling," says Oscar de la Renta. "I think I understand what [Obama and her advisers] are doing, but I don't think that is the right message at this particular point….I don't object to the fact that Mrs. Obama is wearing J. Crew to whatever because the diversity of America is what makes this country great. But there are a lot of great designers out there. I think it's wrong to go in one direction only."
A valid point, I suppose. Considering that Michelle is having a bit of the Oprah-touch (formerly known as the Midas touch) on her chosen labels, it might do well for her to spread the wealth. But, hey, a Lady likes what she likes!
"I hope and believe that this is just a moment," says Karan. "And I hope to be able to dress her, and not only dress her but address her, sit down — I'm interested in her totality as a woman." – Donna Karan
"I love seeing young designers and their vision and how they grow and all of that," she says. "On the other hand, of course, I wish she would consider some of us, because I think we also have contributions to make." – Vera Wang
Source
support photos: wwd.com
[ad#post-link-bar]
Tags: carla bruni, donna karan, michelle obama fashion, oscar de la renta, vera wang
3 Responses to "More Michelle O. In Europe + Designer's Weigh in on Her Choices"
Leave a Reply
You must be logged in to post a comment.